Bits and Pieces - 8 August
We have been away for a while, but our resident hater of all things white has been pestering us on Facebook for comment on the officer involved shooting in Seneca. Jonathan Thrower, who uses some made up Egyptian sounding name on social media and when calling for the murder of white folks, can't understand why you white folks aren't up in arms over that shooting. Well, Jonathan, that's because reasonable folks tend to think and review available evidence and are willing to wait to see what the investigation shows, unlike the way you and your racist "Black Lives Mater" and New Black Prancer friends usually operate.
Another reader pointed us to an article in the P&C about three guys arrested for molesting children. That article was published on Thursday and dealt with the arrests of  Thomas Aspinwall, Michael Norton and Philip Putnam on charges of Sexual Exploitation of a Minor. The reader who brought this to our attention claimed we didn't write about these guys because one, Thomas Aspinwall, was a member of the Charleston World Heritage Coalition. The reader claimed if they were NAACP members we would have written about them. It seems the reader believes CWHO is a confederate flag type of organization. It's not.
We missed this story because we have been busy working jobs so we can support the leeches in our society and because we tend to avoid the P&C until someone tells us they have published another of their stupid race-baiting stories.
As we researched the arrests we saw where the media played up the fact that Norton was a former police officer turned truck driver after he was fired from Hanahan P.D. These three apparently use the gay dating app Grindr to meet their victims. There seems to be problem nationwide with juveniles using the app and engaging in sex with adult males. Maybe Grindr should the name of their app to "Offendr".
None of these three have any prior criminal history.
Last week we reported on the Berkeley County arrest of Jamez Kelly, of Clarine Drive in Goose Creek. Kelly is a 40 Boiz/Phatebois gang member also known as "Grimey Mezzo DaHotboi", aka "Mezzy Kelly".  Kelly was charged with several counts of Attempted Murder for a drive-by shooting after a party in Moncks Corner. Now several of his pals have also been charged.
Shyheim Lewis, aka "Trapp Da Ogee", of Lambs Road in North Charleston, has been charged by BCSO with 3 counts of Attempted Murder. He also has pending warrants with NCPD for 2 counts of Attempted Murder, Armed Robbery and Possession of a Weapon During a Violent Crime.
We have written about Lewis a few times before.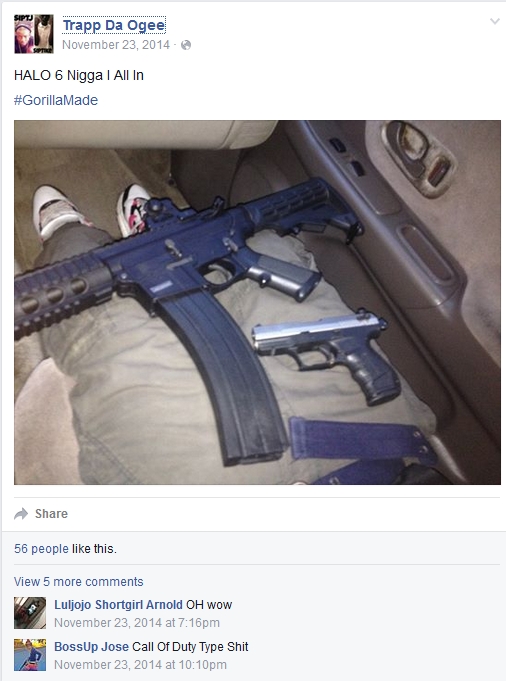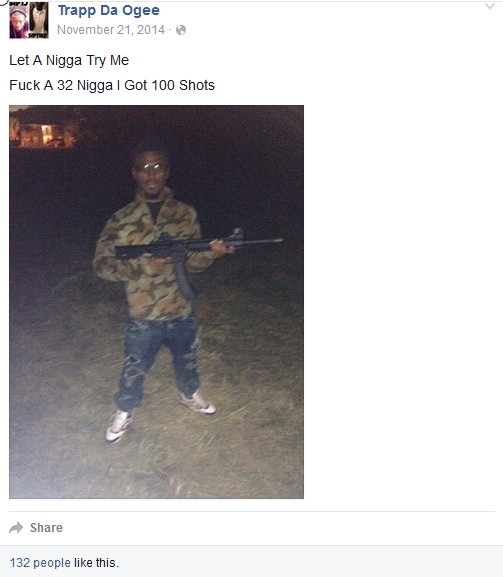 At the time he was trying to kill three people in Moncks Corner, Lewis was free on a $10,000 bond on a charge of Possession of a Stolen Vehicle in Charleston County.
Raekwon Tucker, aka "Shootah Tucker", of Stoneybrook Road in North Charleston, was also arrested on multiple charges of Attempted Murder. Stoneybrook Road is in the Pepperhill subdivision. We were unable to find any prior adult offenses for Tucker.

Montrai Bonneau-Gaillard, aka "Trai Gaillard", of Hillview Lane in North Charleston, also faces three counts of Attempted Murder. Hillview Lane is in the Pepperhill subdivision. No record of prior adult offenses was located.

Now that we know gang members from North Charleston don't mind shooting up Moncks Corner, we can't help but wonder whether this group also attended a party in June of 2014. The reward for information leading to the arrest of those responsible for killing Ariel Morgan has been raised to $10,000. Is that enough to encourage someone to step up and do the right thing?