Drama Continues
The drama continues relative to BCSO with Andrew Knapp of the P&C dropping another bomb into the mix. We have told you before the federal investigation into alleged corruption by highly placed administrators is still ongoing. Knapp confirms what we have already told you. It sounds like the sources interim sheriff Butch Henerey credited with telling him everything was hunky-dory and all cleared up were feeding him a line of bull feces.
Knapp also updated us on the outcome of a story we were the first to tell you about in April of 2014. The arrest of Sgt. Tony Riley for selling firearms to a convicted felon. Now we know the felon in question was Fred Jimmy Condrey, Sr., a well known, longstanding member of the Hell's Angels Motorcycle Club. Condrey and the rest of his club tend to keep a low public profile but rest assured most local law enforcement officers with more than ten minutes on the job are aware of who they are.
You folks might remember when that arrest was made federal agents showed up at the courthouse in Berkeley County where Riley was working and arrested him in uniform. Now, normally, we are told the feds would have paid a courtesy call to the sheriff before cuffing and stuffing one of his people. The fact they did not extend that courtesy in this case is very revealing. It definitely transmits the message that the sheriff and his administration were deemed not worthy of the trust that sort of professional courtesy called for. Once again that ongoing investigation comes into play. The feds obviously have reason not to trust the administration at BCSO.
Will things change? We can hope, but we are not that optimistic. While some of the upper echelon are pushing for Rick Ollic to be their new boss, their old boss, H. Wayne Dewitt, is pushing extremely hard for his pal Duane Lewis. Folks with common sense would think having a disgraced and indicted former sheriff pushing your candidacy would be a detriment to your campaign, but keep in mind we are talking about Berkeley County where three of the last four sheriff's have been indicted and one was a convicted felon who couldn't carry a firearm even on duty. One gets the distinct impression the continuing corruption and malfeasance is a source of pride to some in the county.
This morning we were greeted with directions to a new website. Don't Elect Rick Ollic is written by a crime victim unhappy with his treatment at the hands of BCSO. After some back and forth trying to get his stolen property recovered and a suspect charged, that victim was sent this email: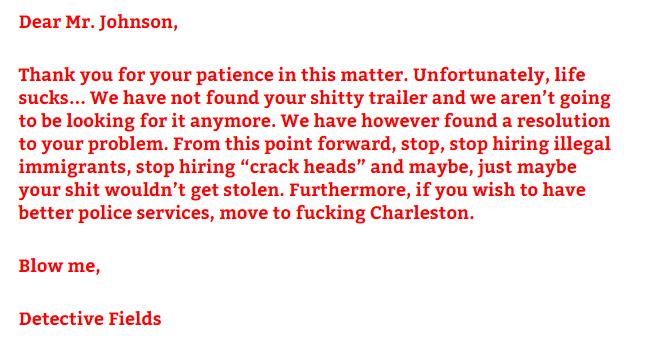 The detective later apologized claiming other detectives were playing a joke on him and the email was accidentally sent. Now, we have no problem with law enforcement officers joking around amongst themselves to blow off steam when things get a bit tense, but this little "game" was completely unprofessional. It is easy to visualize a group of investigators sitting around one day talking trash and bitching about this extremely persistent victim who won't leave them alone in his efforts to recover the property he paid for and uses to make a living.
"This is the email I SHOULD send him!".
"Oops!"
We can't help but wonder if the mother of Ariel Morgan gets the same treatment when pushing for action in the shooting death of her daughter. The murder of Ariel is still unsolved, by the way.