Clinton McCallum Again
Back in February of 2014 we wrote a piece titled "The Myth of Neighborhood Social Groups" in which we exposed the reality of gangs throughout South Carolina. In that article we introduced you to numerous members of various sets of the Bloods, both street and prison gangs.
One of the inmates exposed in that article was Clinton McCallum. He was incarcerated at Lee Correctional Institution then and using the name "Realright Blatt" when accessing social media via his illegal prison cell phone.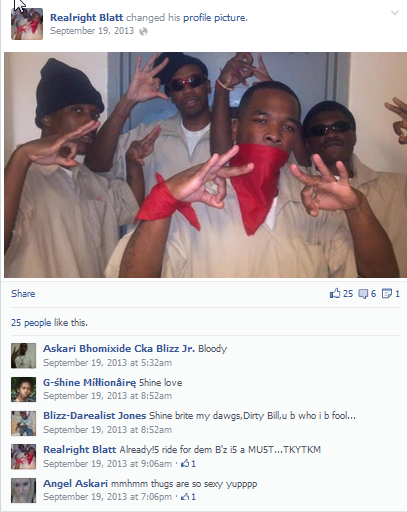 We reported McCallum to SCDC and his Thugbook page was removed. Based on our recent capture of his disciplinary history he was never administratively charged with maintaining a social media site, possession of a contraband cell phone or even being a member of a security threat group (gang).
McCallum is in prison because he murdered two illegal aliens during a robbery in Horry County in 2008. He got a sweet plea deal to one count of burglary and one count of voluntary manslaughter and will be released in 2030.
While we were doing some research into the recent uprising at Lee Correctional Institution we stumbled across McCallum again. He has since been moved to McCormick Correctional Institution and he had a new phone and a new Thugbook page by May of 2014. You can now find him under the name "Lime Lite G'z Blatt". Remember now, according to all those liberal criminal apologists we had to deal with last week, these Thugbook pages are maintained by family members, not the inmate.
Isn't it nice how SCDC allows family members in to cell blocks to take photos of their loved one and all his fellow gang members?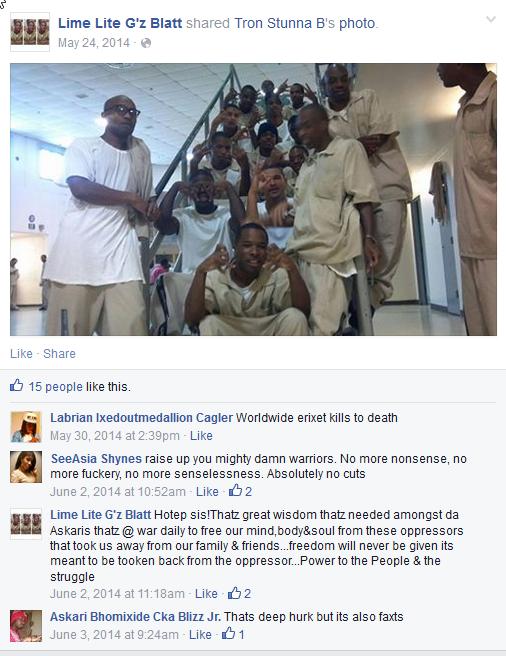 To hear the liberals tell it, this photo in a cell was taken by a family member and uploaded to Thugbook.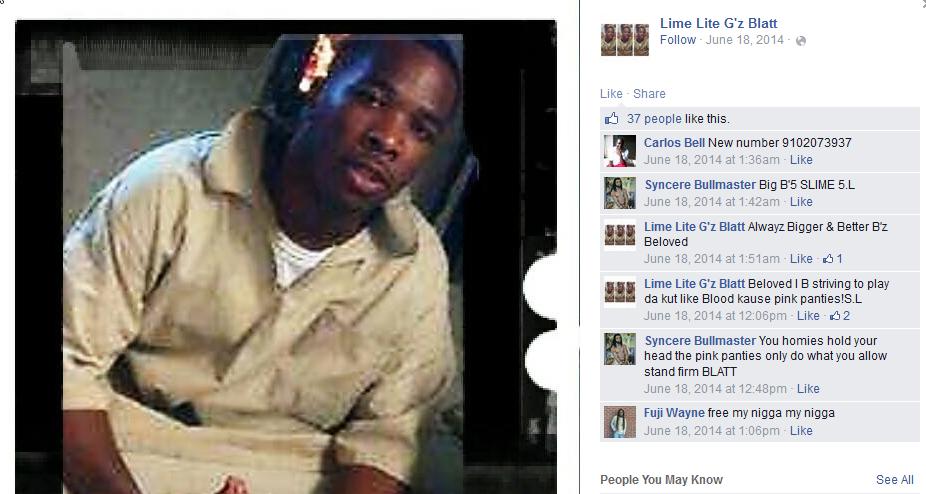 Yeah, we know you folks aren't buying that crap either. We still have to wonder how SCDC hasn't been able to confirm McCallum as a gang member.
Uh-oh, looks like his phone was running out of minutes on 24 February.

And just a few more pieces of evidence indicating McCallum's affiliation with the Bloods.
We will keep on eye on this one to see of SCDC charges him with the social media page and gang membership this time. Not that it really matters, since they caved to the criminal apologists and reduced time in solitary for these maggots. With that move, SCDC has lost all hope of controlling their own facilities. They have shown the inmates that a little bit of public pressure from the libtard media and the state will fold like wet cardboard.
Why do you think that inmate at Lee Correctional had no compunction about calling WLTX via his illegal cell phone to make demands and sending them photos? No fear of any meaningful punishment, that's why.