Horse Sense *Updated*

Horse sense. One would think someone who owns horses would have it. One would think those charged with overseeing and prosecuting abuse and neglect would have it. One would think prosecutors and judges would have it. Not so much.
We have been getting slammed with emails, messages and pictures from Lowcountry "horse people"  about the recent neglect case being reported in the media. Unfortunately, power and politics are said to play a part in the case and the media has failed to report much of the back story. We are being inundated with details of the case of Susan Rebecca Housley (Haile) of Kennerleigh Farm on Plowground Road on Johns Island.
On 23 January three malnourished horses were seized from the Housley after a court order was obtained based on information gathered during a visit by a deputy to investigate charges of neglect. Housley was given two citations for Ill Treatment of Animals. Hmmm…..three horses seized, but only charged for the neglect of two. That is a bit troubling.
Note the "1st offense" listed in the charge. Actually, this is not Housley's first offense, but "technically" it is. Her "first offense", meaning the first time she was charged, was in 2010, but that information was expunged.
None of us have ever owned a horse, but we are told they are very labor intensive. We could understand how someone with good intentions could get in over their head. This does not appear to be the case with Housley, however. This latest episode of starving horses is her second offense, at the very least. Some say third, but we haven't confirmed that yet.
The Charleston Animal Society has a very revealing thread regarding this case on their Facebook page. While they are doing what they can, we have been told CAS is a bit out of their depth as they are not geared toward large animal rescues. This causes a bit of a conflict between CAS and those well meaning Lowcountry folks who are also trying to help these horses and CAS. Toes get stepped on, feelings get hurt, egos get bruised, and cooperation falls apart.
We have been told the first allegation of neglect against Housley came in 2006. That case didn't make the news because only one person complained after they were notified by a vet to recover their horse before it was too late. The second case occurred in 2010 when Housley was charged with six counts of Ill Treatment of Animals. Six horses were taken from the farm at that time and were reported to be 400 pounds underweight. Lack of water and intestinal parasites were also noted, with one news report indicating there were dead birds in what little water was available to the horses.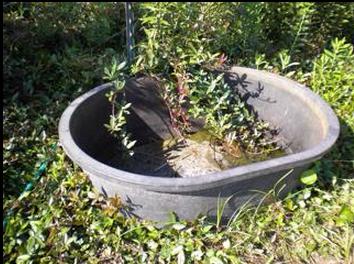 At the time Housley was contracted as a riding instructor by the College of Charleston. The college decided to ignore the situation and Housley was able to keep the lucrative contract worth $513,000. C of C did not renew the contract when it expired, however.
Here is an example of comments we are seeing on social media from those who participated in the C of C program:
"Amazing! We rode horses with her at c of c. I cannot believe they didn't pull her funding/involvement earlier. Their were sick horses there when we had class, it was sad."
The six charges from 2010 were removed from the public record. Media reports at the time indicated Housley was to pay $7,000 toward the cost of removing and caring for the horses and complete a pre-trial intervention program. Successful completion of that PTI program would have facilitated the resulting expungement of those charges. Fortunately, the press reports from the time can't be made to disappear. Not to mention the outrage of the rest of the Lowcountry horse people over the situation.
Part of the agreement in 2010 was that a stallion would be returned to Housley because she made money from stud fees and no one wanted to hamper her ability to make a dollar. The horse pictured below is that stallion. Now, keep in mind we aren't "horse people", but it seems to us if an animal is making money for you it might be smart to keep that animal in tip-top shape. The fact that he was not tells us folks with no horses, but a modicum of horse sense, a thing or two about the owner.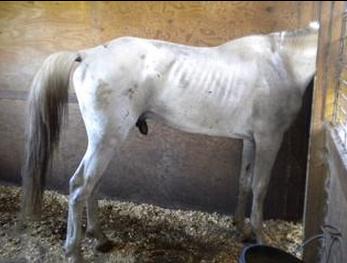 We found quite a few comments on this case on social media. A few are shown below:
"I was involved in the case a few years back of 2 horses in Hamlin Plantation, a Mt. Pleasant suburb. A black man had BOTH of his horses taken away from him in court for that case. He wasn't given any 2 week period. I have no idea what the difference was other than he is an elderly black man with few resources and she is white and somehow gets the backing of the influential few. Obviously if you can't/don't/wont feed your horses you can't likely afford the legal counsel she somehow gets. I suspect we need to follow the money and demand answers. Question, if these were dogs would she be treated the same? I guess people don't give horses the same consideration they give household pets. Shameful."
"Alright tax payers, horse lovers, animal lovers and decent human beings listen up! The woman on johns island (wont mention her name) has been given 2 weeks by charleston county sheriffs office to "do the right thing." If she complies she will yet again get off and get her animals back provided she wants them back. She has a habit of giving the police the trash she doesn't want. There are more babies and starved horses on the property. In the condition they are in and this cold weather they will die. Apparently according to the police this is policy. I ask you this, repeat animal offenders get the same policy every time? Here is another question I don't play the race card often but an African American man has 40 dog seized last year from his property all in deplorable shape he gets jail time. White woman who starves horses has an affluent family with deep pockets who is besties with people like the mayor and other high up officials can repeatedly abuse animals and get off. Think that's fair? I want to know if African American man got 2 weeks to do the right thing? Bet he didn't. I ask you all if you wanna do something make noise! Call CCSO call CAS! Demand answers. Right now she is winning and must be stopped. Please feel free to share this post. The palms of all the high up officials are being greezed as I write this."
The writer of the above comment has a very valid point. Loney Garrett of Goose Creek was jailed on multiple counts of "Ill Treatment of Animals - Torture" and had to pay a total bond of $21,500. He was recently sentenced to five years in prison, suspended to two years in prison and five years of probation after pleading guilty to 10 counts. 33 other counts were dismissed. At that time a spokesperson for the Charleston Animal Society complained about how weak animal cruelty laws were in South Carolina. Long time readers will remember our article pointing out how cruelty to animals is taken more seriously in South Carolina than cruelty to children.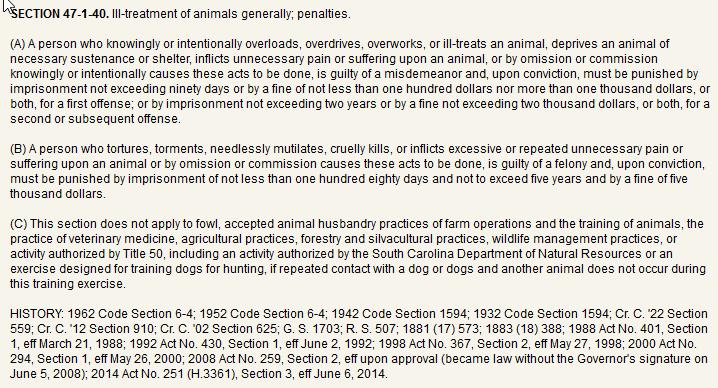 Here is a question for you. Why is that every time we see someone charged with neglecting a dog or cat that person ends up taking a trip to jail, but those charged with neglecting horses do not?
And another question - Garrett was charged with Section B - the felony of torture or inflicting unnecessary pain or suffering upon an animal. Are we to naturally assume that starving dogs to death amounts to the felony of torture, but starving horses does not?
Maybe someone at CCSO or the Charleston Animal Society would care to clear that up for us.
"Perhaps she is ready to liquidate her herd. Call and offer to take the horse. Let us know what happens. I am full at my farm and can not provide what they need this time as we have a refencing project going on. Furthermore, I gave it my all last time and the prosecutor,judge and her lawyer cut the deal to return the horse to her, so here we are again."
We are told by the folks with horse sense that one barrier to finding fosters for these neglected animals is the "gag order" put on them by CCSO and CAS. If someone wants to foster one of these animals, they are instructed not to talk publicly about the animal and told they are not allowed to post photos. Because, you know, what purpose does it serve to show people what is really going on? Some of the photos below are recent, others are from the 2010 incident. These have been making their way around social media since this latest case hit the news.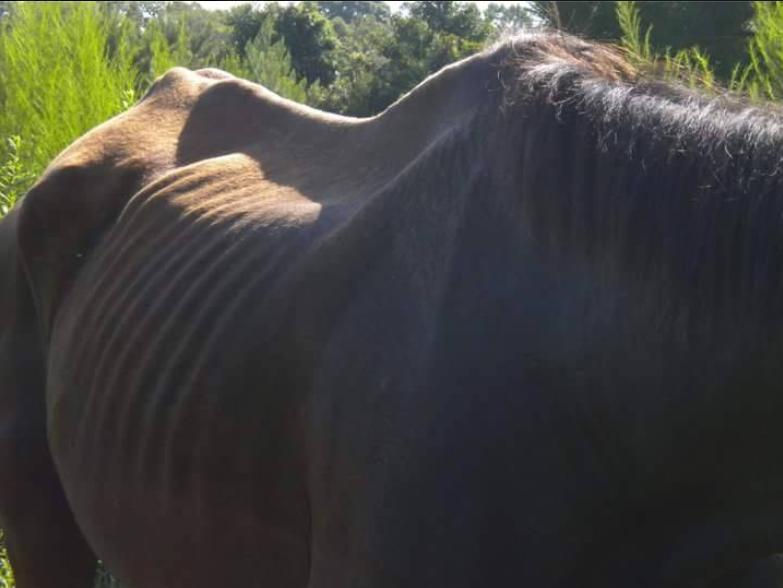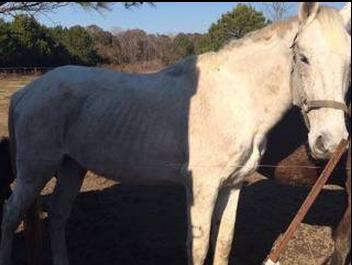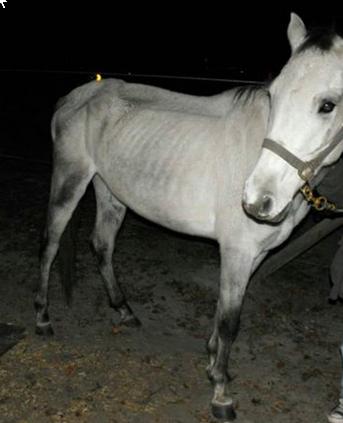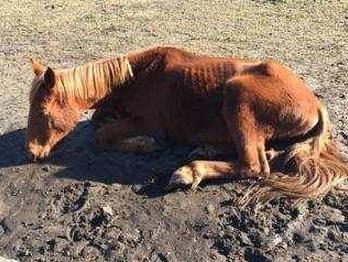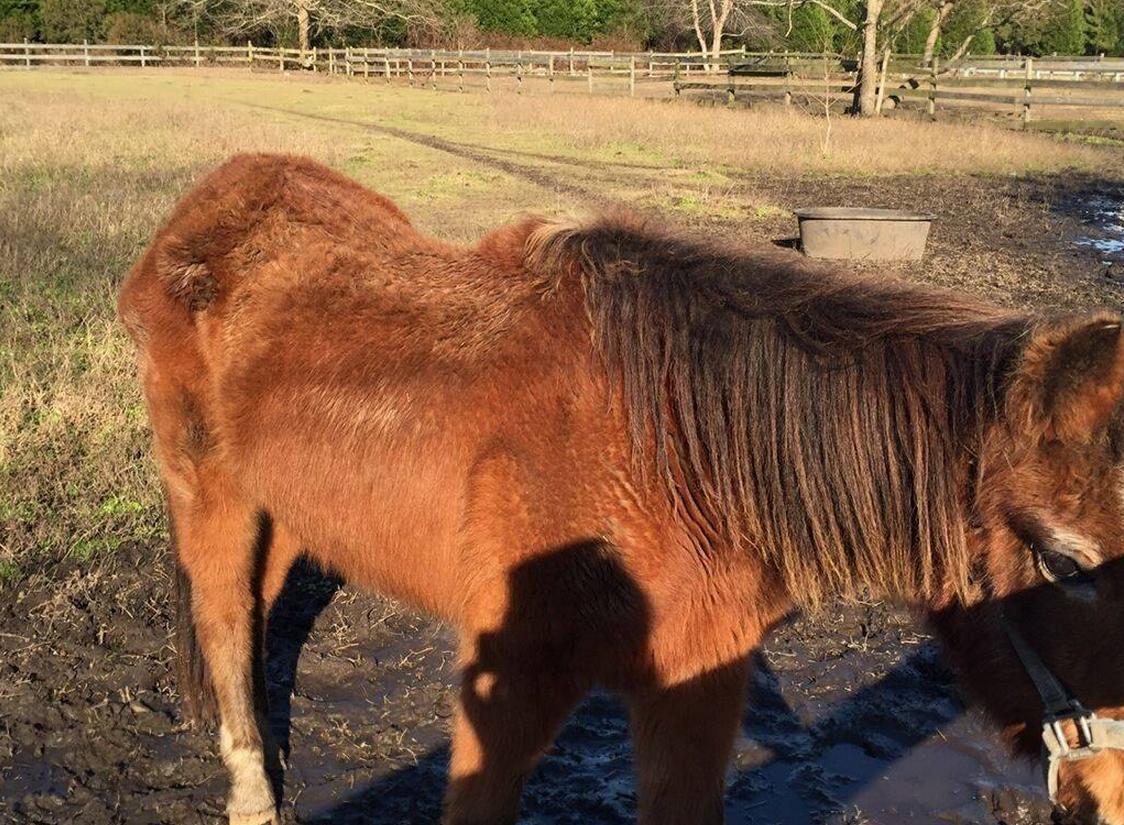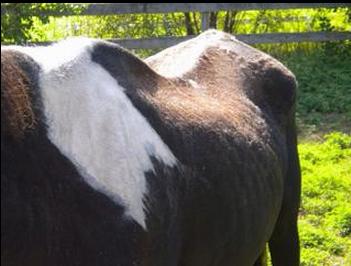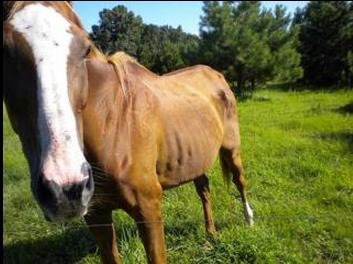 We have been told six neglected horses are still at the farm due to an issue between CAS and a horse rescue group who volunteered to help round them up. CAS is said to have refused the help due to bad blood between the two groups from the 2010 incident. Other postings on social media reflect the belief of many that Housley is hiding other animals and desperately trying to get friends to take them before she is found out. Whether that assessment is accurate remains to be seen, but the proposition isn't out of the realm of possibility based on what our research has shown.
Based on the information making the rounds on social media this case could blow up if the horse people with horse sense can get past the hurdles of the alleged political and media connections and high powered attorneys.
Stay tuned.
Update #1: Politics at play? WCSC is reporting Thursday morning that twelve neglected horses were removed from the care of Susan Housley. CCSO tells WCSC News Housley was only charged with two counts of a county ordinance (not the state charge) for neglect of animals because she was "overwhelmed" and really didn't do anything wrong. If CCSO doesn't believe she did anything wrong why was she cited in the first place? Of course, this also leads to the question - how many times does someone have to be "overwhelmed" before someone in authority steps in and says, "Hey, maybe you shouldn't own any more horses."?
Loney Garrett of Berkeley County was also overwhelmed and had medical problems to boot, yet he is locked up at Kirkland Correctional Institution until April of 2016 for neglecting his hunting dogs. Neglect of 43 dogs versus neglect of 12 horses. Disparity in the 9th Circuit.
The media fix appears to be in with WCSC who point to Housley's "long history of caring for horses" yet they fail to point out her history of neglecting them. WCIV hasn't updated the story since January 23rd. At least WCBD and the P&C have done stories explaining the history involved.