Horse Flies
A lot of citizens noticed some annoying horse flies buzzing around a couple of weeks ago in reference to a case of animal abuse. The positive impression being relayed to the public by the media and the folks at CCSO involved in the horse starvation incident on Johns Island left a taste that didn't compare to sugar cubes for many. We first discussed the seizure of horses and the charges against Susan Rebecca Housley on January 28th. At that time Housley was issued two citations for violating the county ordinance dealing with neglect of animals.
On February 6th those charges were upgraded to two counts of Ill Treatment of Animals as set forth in the South Carolina Code of Laws. Housley was given a $5,000 personal recognizance bond on each charge by Judge Bligen.

During the bond hearing Housley's attorney, Capers Barr, tried to paint Housley as the victim in the case being "paraded….in the eyes of the media as someone in a striped suit."He called it "patently and manifestly unfair" and "vindictive". We wonder if Barr believes all bond hearings should be done in street clothes and in private or just the ones for his clients. Barr claims that CCSO upgraded the charges from county ordinance violations to state law violations after he asked for a jury trial for his client on the citations previously issued.
Yep, she's the victim alright.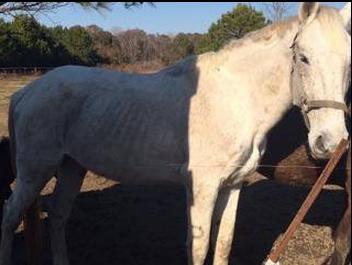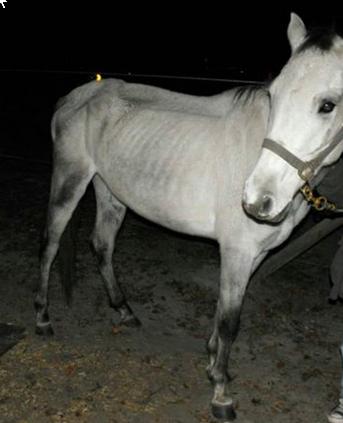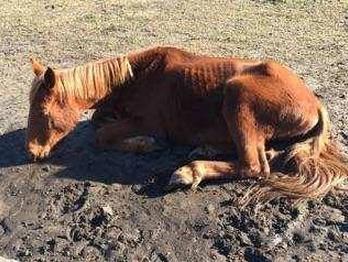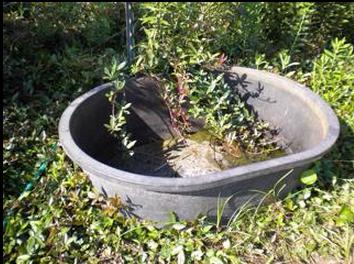 We tend to think the upgraded charges were a result of an outraged citizenry demanding the proper application of justice for Housley due to her record as a serial offender when it comes to neglecting horses. According to locals in the equine scene this would be the third time starving animals have been removed from Housley's "care". You can find their petition HERE.
The folks at CCSO were telling the media Housley was "overwhelmed" when it came to feeding and caring for the horses. She was also apparently overwhelmed in 2006 and 2010. This apparent support and excuse making for Housley's actions (or lack thereof) by the very folks tasked with ensuring the law is followed enraged a lot of folks.
Did we mention this is Housley's third offense? We are all for our law enforcement folks trying to help people out, but seriously, there comes a time when you just have to say this person should be prosecuted to the fullest extent of the law and barred from every owning horses again.
Has anyone considered sending a FOIA request to Charleston County to determine just how much taxpayer money has been expended relative to Housley's neglect of her horses in 2006, 2010 and 2015? That might be interesting.
Housley does have her supporters in the horse world, though. Many of them have posted on social media and on our previous article about how expensive it is to own and care for horses. We believe it. That's why none of us have ever considered owning one. Housley has been involved with horses for quite some time and she should understand what is required of her.
There is one very interesting point to be made with regard to that issue. Does anyone else find it strange Housley allegedly cannot afford to feed her horses or pay for a veterinarian, but she can fork over a big bag of oats for a big name, high powered Broad Street attorney for a couple of low misdemeanors that would most likely only result in a fine of less than $2,000 if found guilty on both charges? Huh. Guess you gotta have your priorities.
One comment tells us vet visits for a horse can run into the thousands of dollars and if one has children and a family to care for (like Housley) they can't justify spending that money on a pet. Horse sense would tell you if you can't afford to care for an animal you probably shouldn't have it. The same person says Housley should not be written about here on CTL. We have two words in response to that - serial offender. In light of the soft touch given to this serial offender by CCSO and the media, CTL was the only site where the true facts could be found. She may not a "thug" in the strictest sense of the word or the type of lawbreaker we are accustomed to writing about, but then again, horses are incapable of speech and can't give us their opinion.
At least one person in our comments section has blamed Housley's neighbor and his/her apparent lust for her property for the fact that Housley's horses were starving. That sure is a novel excuse for starving your animals. So, if someone knocks on our door and wants to buy our house we can stop feeding our dogs and would be completely justified in doing so. Good to know. Kibble for those beasts cost a lot of money. Hope someone knocks real soon. Or maybe this person is implying that neighbor was the one who lodged the initial complaint and the motive was the lust for Housley's property and the starving horses don't really matter. Either way, the contention is a bit ridiculous.
We are also told Housley is getting a bad rap because she has been a responsible horse owner for many years. Hmmmmm. 2006, 2010 and now 2015. Three instances of neglect in nine years. Those can be overlooked, though, right? Kind of like the supporters of Glendell Gladden told us we should overlook the three murders and dozens of other crimes attributed to him.
Yeah, sure.