Wipeout in Walterboro
We are now being told the mass shooting in Walterboro at an address on Sandy Dam Lane early Sunday morning was gang related, but it was not a shootout between gangs. Can't wait to see that one explained a bit more. It would be absolutely hilarious if they all blasted each other in a crossfire situation.
As with most violent crime in Colleton County we suspected the "Get Money Cowboys" gang was involved. They also go by "Cowboys Money Getters" or just simply, "Cowboys". Warrants have been issued which confirm our suspicions. The warrants are apparently for charges of Obstruction of Justice.
You can read about the Cowboys in our post from 2013 where we broke the news of their existence and their dirty dealings. It took the "regular" media an additional six months or so to figure out what we reported in July of 2013.
Authorities have issued warrants for Khiry Broughton, aka "Kblacka Rcs". Broughton is said to be the leader of the Cowboy gang. Apparently he is some sort of (c)rapper the rest of the idiots have attached themselves to thinking he is going to take them all to (c)rap nirvana where it rains money and bitches. Not likely.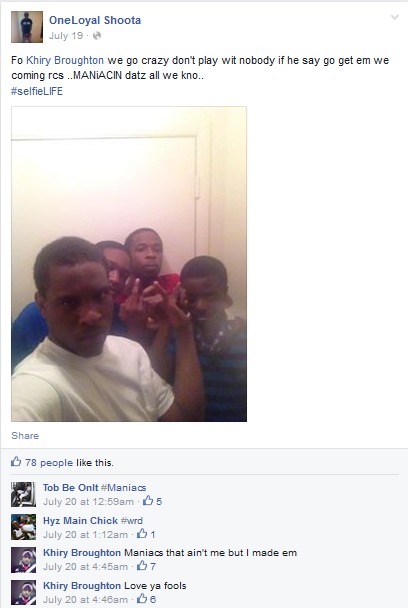 You can read about Broughton's criminal history in our earlier post.
Colleton County authorities are also looking for Zaquann Hampton. He now goes by the Thugbook name "Tob Be OnIt". You can read about his criminal history in our 2013 article. He fawns over Broughton like a little girl with her first crush. Apparently Tobin was shot on the 28th, as evidence by this post wishing a happy birthday to Broughton's son. Note to Colleton County investigators - check the hospital for him.

After learning of the shooting this past Sunday, we checked the Thugbook pages of several of the Cowboy gang members. This post from Hampton went up at about 4 a.m. Sunday morning.

Hampton wanted everyone to know how safe he felt around his "cowboy shootas" the day before he was shot.

Other guns were still arriving on-scene as police and paramedics attempted to render medical aid and sort out what happened.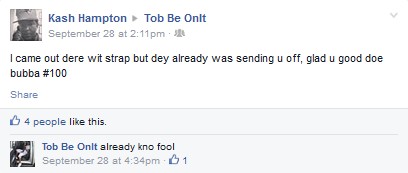 Hampton tells us someone set the Cowboys up and makes a snide comment about how Charleston gangs do business. He also vows revenge. For those of you who don't think the female associates of these gang members are involved in anything, check out the advice of Shameka Hampton below. "Stay off the book. Gangsters move in silence." Hahaha….no, Shameka, gangsters don't move in silence. They ultimately twitch and gurgle and cry like little girls while lying in puddles of their own blood.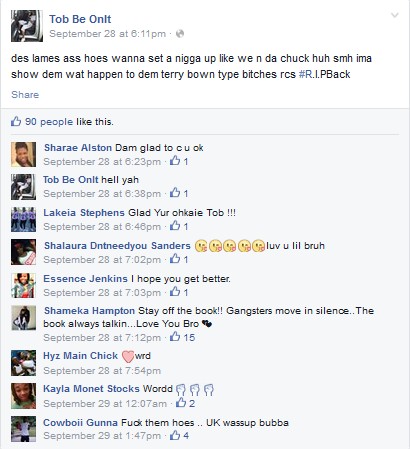 Hampton has no plans to change his ways, though. In case you were wondering, "rcs" stands for "Real Cowboy Shit".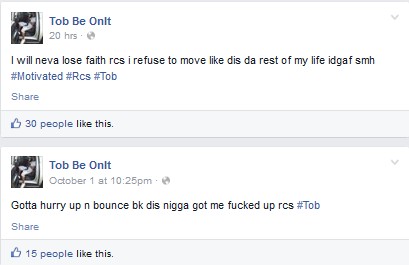 Kadeem Singleton is also wanted. He has no criminal history in Colleton County, but proudly proclaims his membership in the Cowboys gang. This first post went up the day after the shooting.

Below you will see a pile of what we imagine real cowboy shit might actually look like after a few months on a dusty trail eating beans and hard-tack.
We thought this photo from Singleton's page was rather interesting.
The next gang member authorities are searching for is Matthew Rashaun Jones. He has quite a criminal history in Colleton County.
In 2011 Jones was charged with Attempted Murder, Possession of a Weapon During a Violent Crime and Contraband in Jail. The attempted murder and the weapons charge were dismissed at the preliminary hearing. The contraband charged earned Jones a sentence of one day time served.
In 2012 Jones was charged with 1st Offense CDV. He plead guilty and was sentenced to time served. He was also charged with Unlawful Carrying of a Pistol. He plead guilty to that charge and was sentenced by Judge Thomas Cooper to 1 year, suspended in favor of time served and 18 months probation.
In December of 2013 Jones was charged with three counts of Attempted Murder and one count of Possession of a Weapon During a Violent Crime. He was not charged with a probation violation for this arrest.
Those charges were dismissed by the 14 Circuit Solicitor in July and Jones was released from jail in July.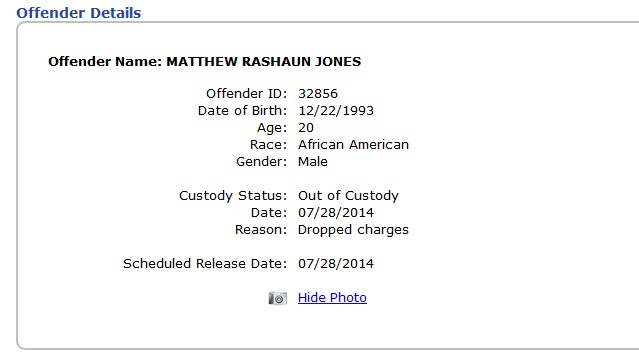 Police are also looking for 23 year old Leviticus Ford. He has prior charges from 2013 of Unlawful Possession of a Pistol and Unlawful Carrying of a Pistol. Those charges were dismissed by the 14th Circuit Solicitor who resorts to the old trick of noting "not indicted" in spite of the fact there is an indictment number plainly visible in each of the records.
You have to wonder whether the 14th Circuit Solicitors Office consults or conducts training with the 9th Circuit Solicitors Office when it comes to how to handle charges for gang members who carry weapons.
We would like to say we are trying to give the new Walterboro police chief the benefit of the doubt, but when he makes statements like he did to WCIV you have to wonder where his head is at. Here is the statement we take issue with (emphasis added):
"I think we do have a certain amount of what people like to call gang activity, but I think that's everywhere in the community, not just the community, but everywhere in the world."
No, Chief Wade Marvin, that is not what "people like to call" what is happening. It is, in fact, what it is. Until you and the other "leaders" in law enforcement get off your dead asses and quit taking direction from the politicians who want to cover up the problem, nothing will change. Go ahead. Be a man and say it. The Lowcountry in general, including the area you are now tasked with policing, is infested with gangs and most of the violence we see in the news (and the violence the news won't report) is directly related to GANGS of thugs. They are not "neighborhood social groups" as Chief Mullen and Sheriff L.C. Knight would have you believe. They are organized criminal enterprises. You law enforcement administrators need to get over the ridiculous mindset that says in order for any group to be a gang they have to be organized exactly like the Mafia.
Take a look at that Thugbook post above, Chief. See the one indicating those mouth-breathing, brain dead pieces of shit in your neck of the woods will do anything their leader Khiry Broughton tells them to? That is called a clue. Maybe you should run with it.