Shooting Report
On October 1st we were treated to reports of another shooting in North Charleston. This one occurred in the 3000 block of North Carolina Avenue in the Chicora-Cherokee neighborhood. Of course, the local news doesn't bother to follow-up on these things. We thought we would give it a try and spent some time exploring Thugbook for information for this shooting report.
Our Thugbook probe yielded information indicating the alleged victim of this shooting was one Jaquez Lawrence. Lawrence claims to be a member of the gang known as the Macon Boys, aka Macon Money or Money Macon. We think Lawrence is about 15 years old and is a student at North Charleston High School. You can find him on Thugbook under the name "Breadlane Dumpie". "Breadlane" is a reference to a certain area of Chicora-Cherokee known for drug sales. Lawrence also claims membership in the Young Goons.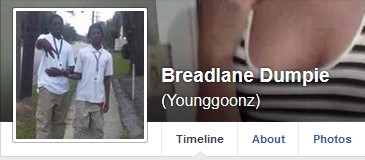 Lawrence is now chilling at home with friends and some natural pain killer.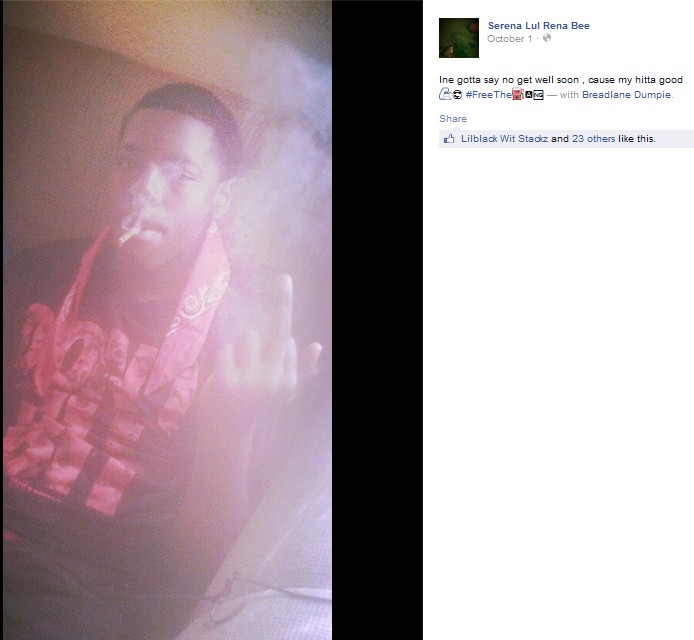 The problem with Lawrence being a "victim" is that he may also be the "suspect" in his own shooting. A neighborhood source tells us Lawrence and some friends from his "neighborhood social group" had been in possession of a stolen firearm prior to the shooting and that was the firearm Lawrence was playing around with when he shot himself in the leg.
Everything is cool, though, because no one talked to the cops.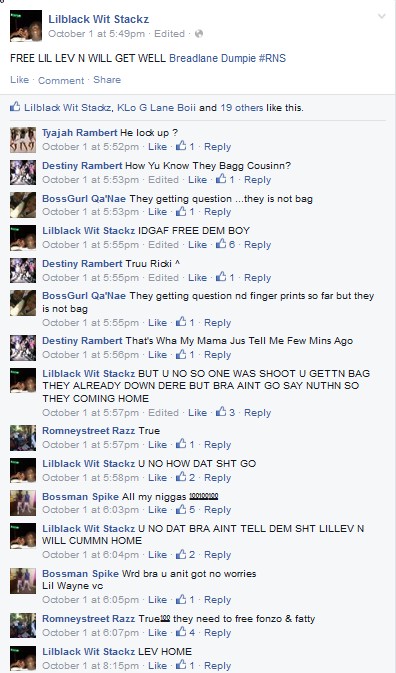 It wasn't so long ago that the Lawrence family wanted people to talk to the cops. Remember back in 2012 when then 13 year old Marquiese Lawrence caught a round in the shoulder on Clement Avenue, also in the Chicora-Cherokee neighborhood? Back then his mother, Lavonne Lawrence was understandably upset about her kid getting shot and demanded police lock someone up. NCPD did just that. To her credit, Lavonne Lawrence commended NCPD for the efficient job they did. We can't help but wonder what kind of words she has for the 9th Circuit Solicitor regarding the resolution of those cases.
The first person arrested, Benjamin Jerome Davis, was charged with two counts of attempted murder and one count of possession of a firearm during a violent crime. The 9th Circuit Solicitor dismissed one count of attempted murder and the weapon possession charge, because, you know, those gun charges don't mean a damn thing anyway, right? Then they reduced the attempted murder charge for shooting Marquiese Lawrence to 1st Degree Assault & Battery. Judge Thomas "Felon's Friend" Hughston actually sentenced Davis to 10 years, suspended to 5 years followed by 2 years probation. Davis is due to be released from Kershaw Correctional in February of 2015.
Also charged was Domenique Nicole Owens. She was charged with two counts of Accessory Before the Fact of a Felony. She plead guilty to one count and was sentenced to one day time served. The other charge was dismissed.
While digging around we found a case where Lavonne Lawrence wasn't so fond of the police. She was charged with Instigating a Riot in 2002 as the result of an incident on St. Johns Avenue. During that incident  a large group of black folks were yelling racial epithets at a white police officer as he tried to make an arrest of a suspect who was fighting him. The crowd attacked and assault the officer and his gun was stolen. Lawrence plead guilty a year and a half later and was sentenced to 2 days time served. After reading about this incident we reached out to a retired NCPD officer for more information and were informed the officer's stolen firearm was recovered later that night.
We could spend another hour or two researching the Lawrence clan, but suffice it to say they are no strangers to police. You can head over to the SACDC site and search for Travis Stefenon Dequan Lawrence to see what we mean. We think it is safe to say his younger brothers are headed in the same direction. Unfortunately, we will be dealing with this family for quite some time based on the poor case handling by the Solicitor and sentencing judges we see in Travis' cases.
Getting back to the incident at hand, the "Lev" you see referred to in postings about those involved not cooperating with police can be found on Thugbook at "Rackreser Lev". We were digging into his page when he changed his Thugbook from "Bossman Lev". His real name is Keyshawn Rambert, also a student at NCHS. There is some discussion on social media whether Lawrence shot himself while mishandling with the gun or he was shot by Rambert while he was mishandling the weapon and showing off for other friends who were present.
It doesn't really matter. Both are juveniles so you know nothing will come of any charges filed. No matter who pulled the trigger we can't help but wonder if the gun Rambert is pointing at the camera below is the one Lawrence was shot with. The photo is dated a few days before he was shot.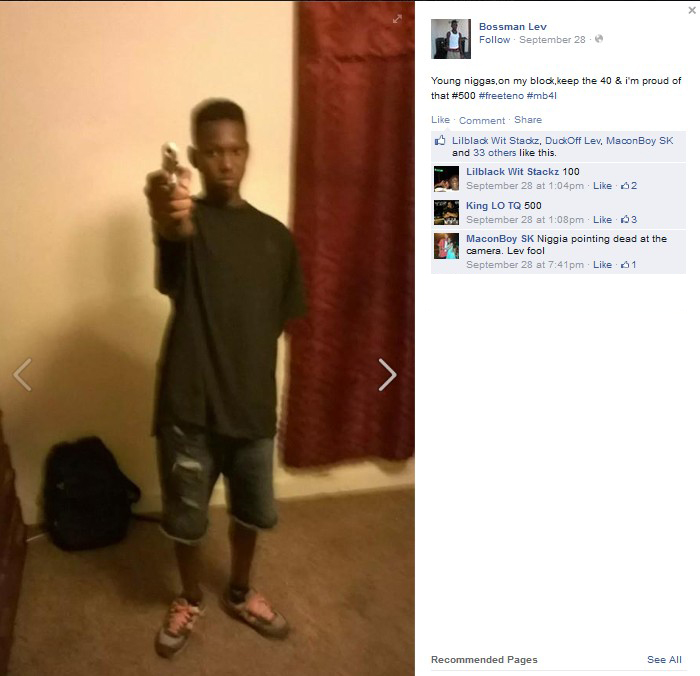 Rambert also claims the Young Goons, but likes to wear his red rag and claim the Bloods.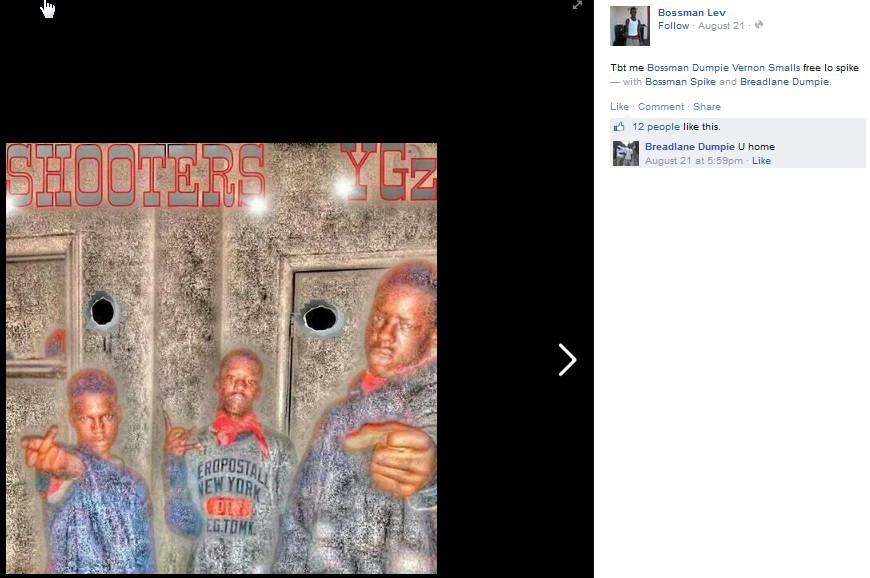 Five little bangas all on a bed. Maybe they should be flying the rainbow flag instead.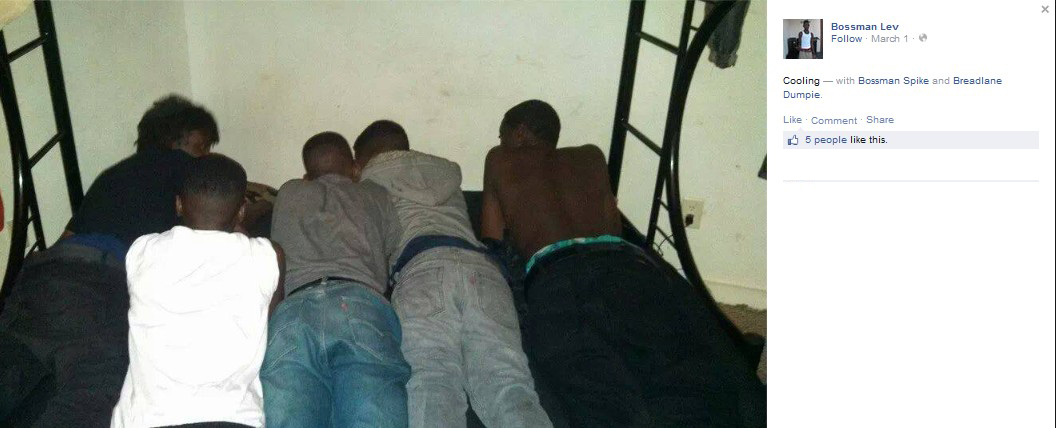 There is Rambert on the left flashing the Blood sign and his homeboy Lawrence on the right.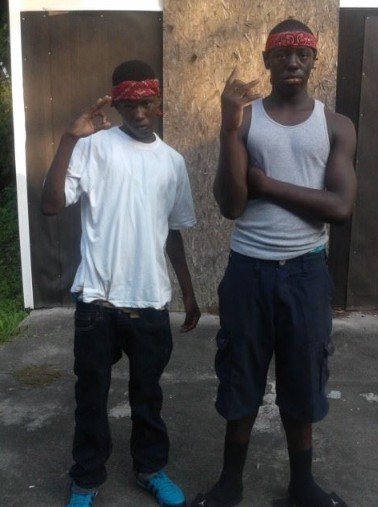 It sure is a good thing they don't drug test students in Charleston County, huh? Both of their social media feeds are full of photos of them smoking weed and displaying the proceeds.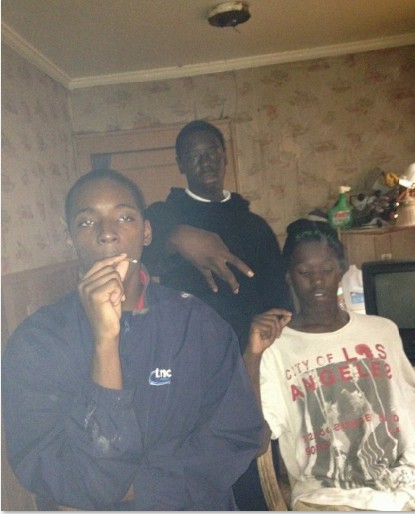 Rambert definitely isn't shy about being under-age and displaying his firearms and those of his friends. He also has no problem letting the public know he considers himself a "shooter".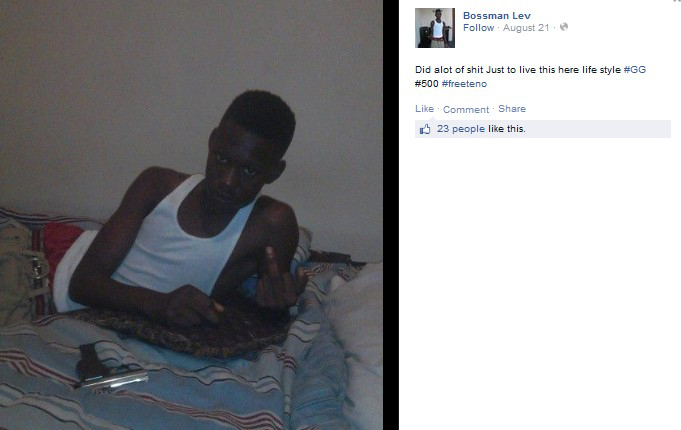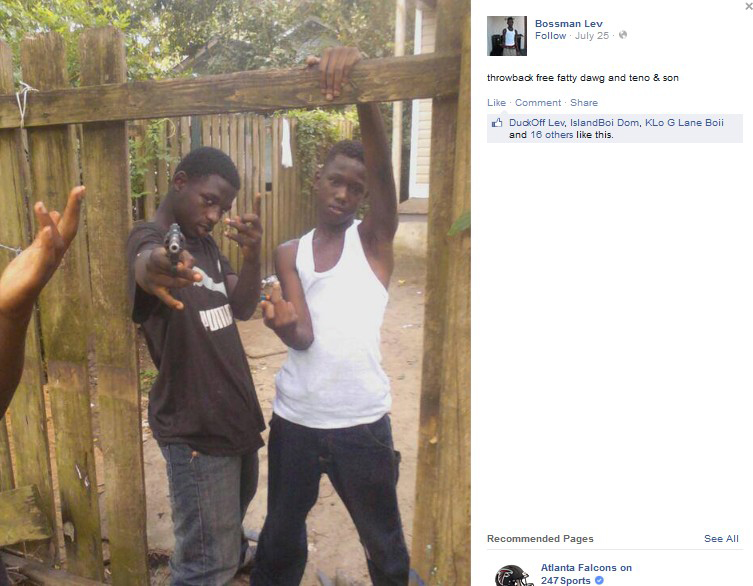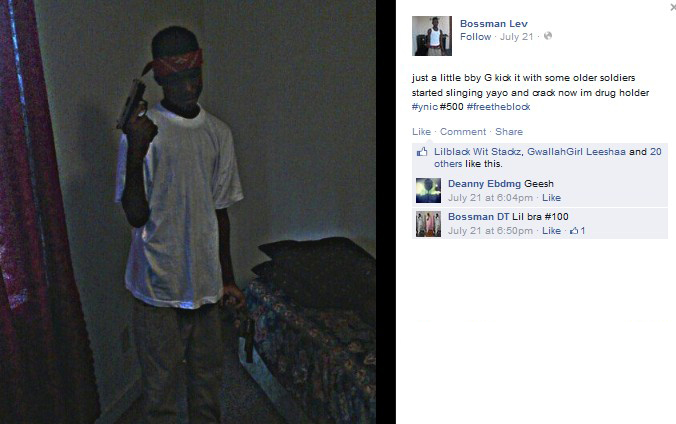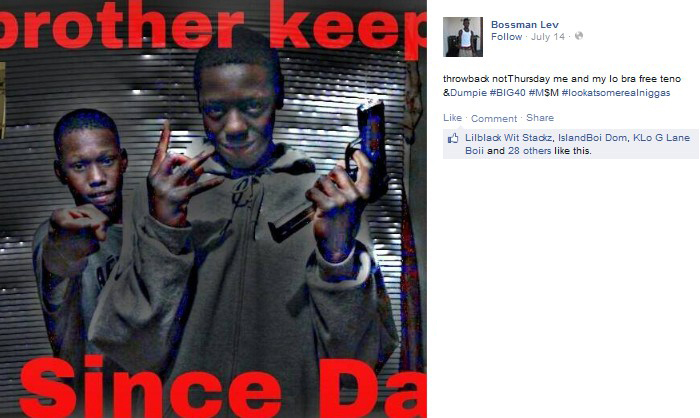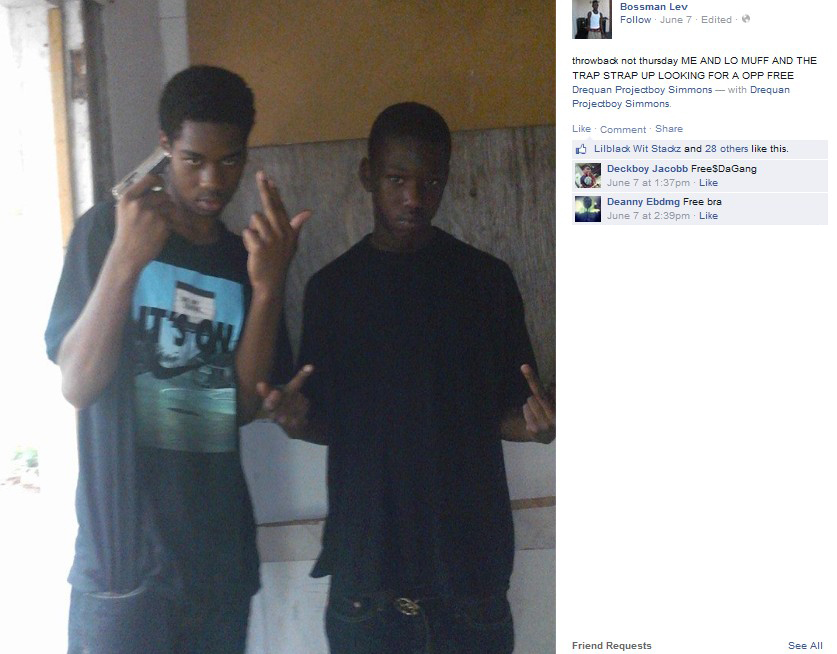 Here we have Jaquez Lawrence with a firearm.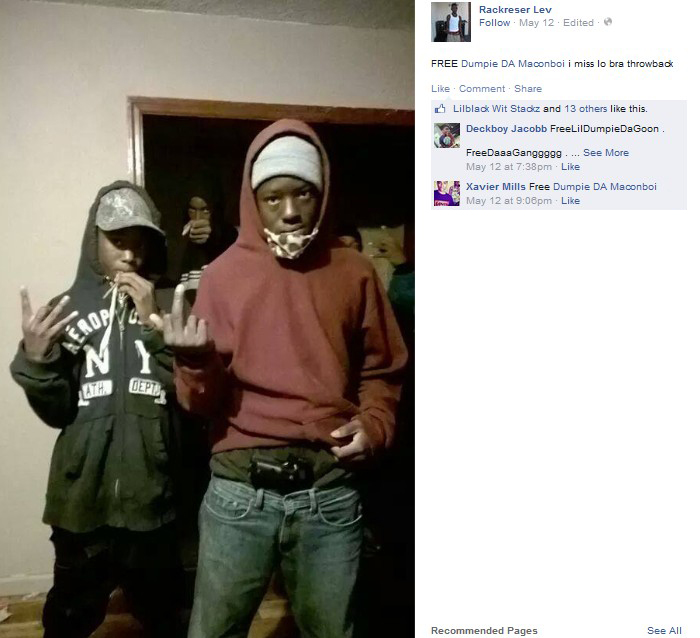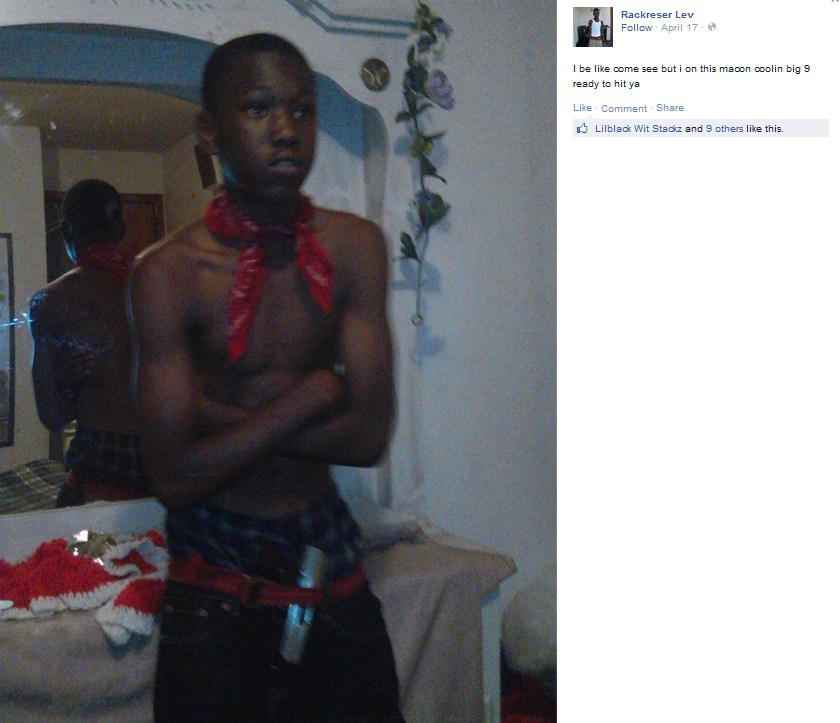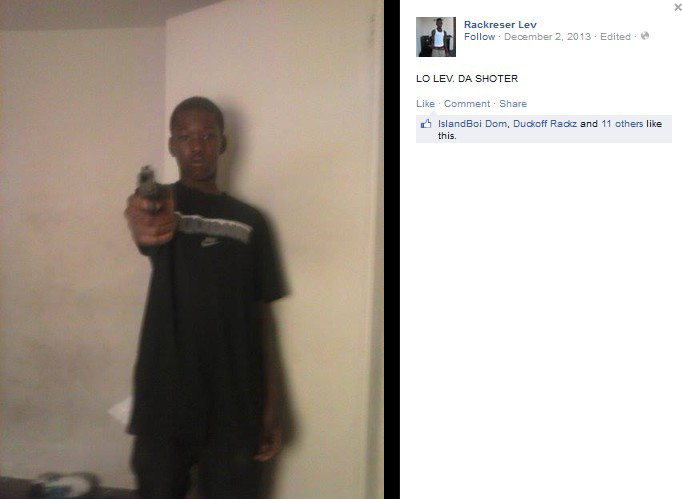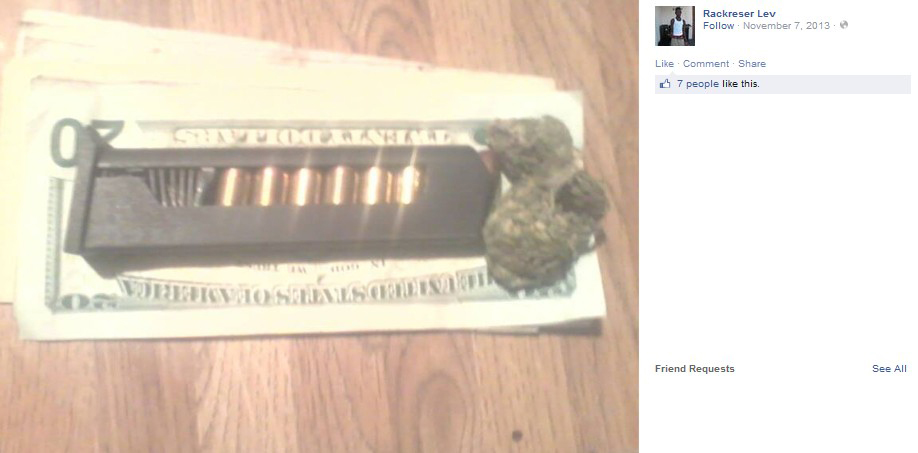 With all those guns in the hands of idiot 14 and 15 year old self-proclaimed gang members and drug dealers, you can't help but wonder how many times those weapons may have made an undercover trip to a certain public school. Welcome to Charleston County - wear your vest to class and remember to duck.
If you think about it, next time you bump into some of your local police administrators, you might want to mention that these types of folks are "what you like to call" gang members and they really should acknowledge and address the problem rather than trying to convince you gangs don't exist in the Lowcountry. We are getting tired of hearing certain police administrators refer to these gangs as "neighborhood social groups who have come together over shared interests". Um, sure, Chief Mullen. Okay, Sheriff Knight. Whatever you say Chief Marvin.
Apparently these people share an interest in violating narcotics and firearms laws and shooting people who belong to other "neighborhood social groups".
Related articles