Walterboro Cowboys
Khiry Broughton, the alleged leader of the Cowboy gang in Walterboro has deleted his Thugbook page. He did so not long after someone posted a link to the profile on the WCSC comment section. His page was under the name "allin.forblacka". Blacka is his (c)rap name. His old Thugbook page, "Kblack Head Honcho Broughton" has also been taken down. Broughton was born in 1990 and uses 1332 McMillan Street as his address.
A reader alert us to this photo of the victim of the Starlite Lounge shooting. Her name is Sierra Truesdale and this photo shows her sporting a flag bandanna at another club. We believe this was a Fourth of July party, so flags would be expected. We just find it ironic she was gunned down a week later by someone wearing a similar bandanna.
Let's talk about Khiry Broughton for a bit. He was arrested in August in 2012 and charged with Murder/Attempted Murder and Possession of a Weapon During a Violent Crime. The incident occurred at Club Toe Jam (really). Broughton and a security guard at the club had an argument and Broughton drew a weapon and shot at the security guard. The 14th Circuit Solicitor, taking a lesson from Scarlett Wilson's handbook, dismissed both charges with the notation "not indicted". Interesting. We can clearly see an indictment number listed on both charges. That would indicate there was, in fact, an indictment.
Let's review the rest of his criminal history in Colleton county.
2009 Charges:
Assault & Battery With Intent to Kill, Discharging a Firearm Into an Occupied Vehicle and Unlawful Carrying of a Pistol.
The 14th Circuit Solicitor dismissed the unlawful carrying of a pistol, again with the notation "no indictment". Again, we can clearly see an indictment number listed.
The other two charges were "remanded to other court" by the 14th Circuit Solicitor. Interesting. When this incident occurred Broughton was eighteen years old. The case couldn't have been sent to Family Court. That tells us the 14th Circuit Solicitor probably dropped the charges down to something like simple assault and sent them to a magistrate level court. Utterly ridiculous.
2010 Charges:
Contributing to the Delinquency of a Minor - Pled guilty before Judge Perry Buckner. Sentenced to three years, suspended in favor of two years of probation.
Wow! All those violent charges and all the 14th Circuit Solicitor can get him on is contributing to the delinquency of a minor?
Now on to some other Cowboys.
This first set of photos were captured from the page of Christopher Brown. He was mentioned in our post about the Cowboys from last year. Back then he was using the Thugbook name "Chris CowboyShit Brown. He has since changed his Thugbook name to "Cowboii Rougish". Does he mean he's the one who wears the rouge? That should help him out when he goes to prison. So far Brown only has a disorderly conduct conviction in Colleton county, but he was born in 1993, so he's still young. He uses 137 Riley Street as his address.
These next two are just a sample to show you why there are is so much violence at black clubs. These places actually pay these rival gangs to show up and (c)rap. You can guess how the violence happens after they show up. As you can see, the Cowboys are no strangers to the Starlite Lounge.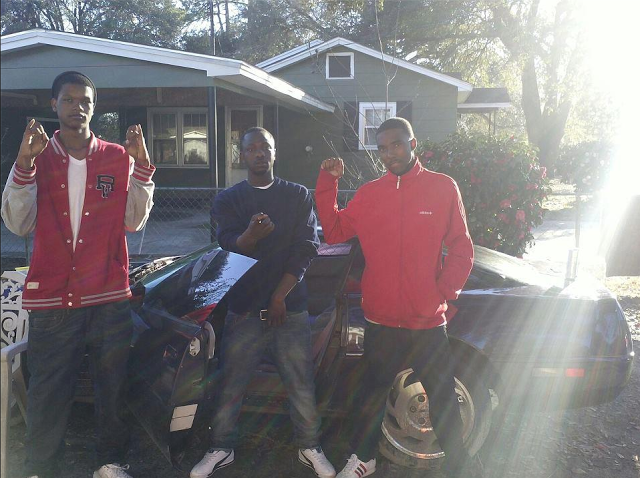 Chris Brown, Khiry Broughton, Reakwon Daye
We first profiled Reakwon Daye when he was using the Thugbook name "Reakwon So'Icey-cowboy Daye". He signed up for that profile using the name "ImaGetMoneyCowboy". He has since abandoned that profile and now uses "Snow OnThe Bank". He signed up for that one using the name "Reakwon Cowboy".
Reakwon doesn't have an adult record in Colleton county, but according to his Thugbook page he was locked up from the end of April until 12 July of 2013.
This was his "work and education" on his first Thugbook page:
Some photos from his latest profile:
Sounds like some serious "homo" stuff going on in the Cowboys. Now we know why Chris Brown wears the rouge.
Reakwon tells us he's on "neighborhood watch", which means he is the lookout and alarm system for when the cops or a rival gang show up. Note the comment by Whitney.
Cowboys corralled.
James Joseph Young III claims undying allegiance to the Cowboys on his Thugbook page. You can find it under the name "Jay Jay KeepitSolid Young". He was born in January of 1994 and claims 8889 Lowcountry Highway in Ruffin as his home. At least he did when he was arrested in November of 2012 by Dorchester County S.O. for attempted murder. Young and two co-defendants were charged with shooting Travis Jamar Fults in the head and arm on 28 October while he was allegedly "just walking" on Linda Lane in Summerville.
Young was released on a $5,000 personal recognizance bond set by Judge Diane Goodstein in January. The 1st Circuit Solicitor dismissed the charge in June of 2013. At least the 1st Circuit didn't try to tell you a lie about there being no indictment like the 14th Circuit Solicitor does.
Let's see what Young had to say about the case.
Note: "rcs" is a variation on the commonly used "rns" (real nigga shit). "rcs" is "real cowboy shit".
Young's co-defendant, Zaquann Hampton, was born 2 November, 1993 and claims 1190 Boone Hill Road in Summerville as his address. Could it be the Cowboys in Walterboro are allied with the Summatown gang? Or is Zaquann trying to spread the Cowboy ethos into Summerville? Hampton's Thugbood page can be found under the name "Zay Tobin".
In 2011 Hampton was charged with two counts of Possession of a Pistol by a Prohibited Person/Stolen Pistol. The 1st Circuit Solicitor dismissed one charge. Then the 1st Circuit Solicitor let Hampton plead guilty to the lesser charge of Unlawful Possession of a Pistol. He pled guilty before Judge Edgar Dickson who sentenced Hampton under YOA to a term not to exceed one year, suspended in favor of two years of probation.
Of course, we all know Hampton went on to shoot Fults in October of 2012. Curiously, there is absolutely no record of that arrest or disposition in the Dorchester county database. Based on what Young told us above we can assume the 1st Circuit Solicitor dismissed all charges and apparently made the record disappear.
Cowboy swaggin - in a broke ass box made from recycled beer cans.
Photo posted by James Young in November 2012. Was this the gun they used to shoot Fults?
That is all we have time for today. Hopefully we gave Channel 5 news enough information to steal that it keeps them busy for a while.