First of the Year
North Charleston snatched up the dubious honor of having the first homicide of the year when Kennneth Lamont Robinson, aka "Bubba G" was blasted into Dead Right There Status in the Exxon on Ashley Phosphate Road on Friday afternoon. According to authorities, Robinson had cheated someone in a drug deal and karma chose that place and time to bite him in the ass. Police are currently searching for Montre Desean Brown on a charge of Murder.
Brown, of 2943 Alabama Drive, apparently did not like getting ripped off by Robinson. Brown saw Robinson coming in to the business and lay in wait in the restroom before firing away and dropping Robinson in a bloody heap. Brown and his female driver then fled in a white Chrysler. By the time police found the car at Rivers and Durant the female had already dropped Brown off at Northwoods Mall.
The mall connection to this case is an interesting aside. Robinson's son is the same Kenneth Robinson, aka "Madden Block BJ", who shot up a former gang member at Northwoods Mall in July of 2014. The younger Robinson has apparently been locked up in juvenile detention since then, but he still manages to update his Thugbook page on a regular basis. He managed to put up this memorial post to his father and included a threat.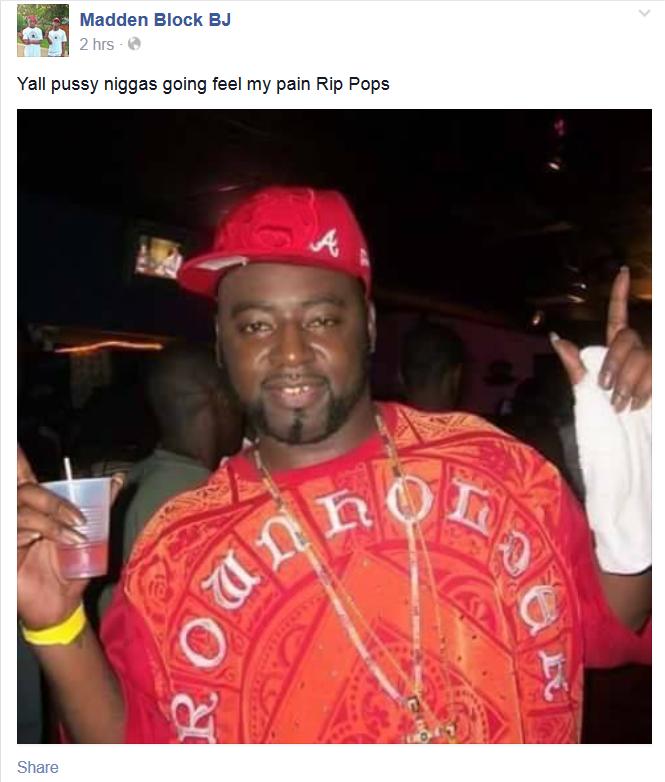 Murder suspect Montre Brown has a rather short, but significant criminal history in the 9th Circuit. He was charged with one count of Attempted Murder in 2010 in Berkeley County. This was the only charge despite the fact that there was an exchange of gunfire with the occupant of a van parked in the middle of Ladson Road and a 76 year old woman was shot. She just happened to be driving by at the time. Brown was also shot.
The 9th Circuit Solicitor reduced the charge to 1st Degree Assault & Battery. Judge Edgar Dickson sentenced Brown to a YOA term not to exceed 5 years in August of 2011.
Apparently no one bothered to charge him with firearm stolen out of Alabama found in the closet where he was hiding when arrested.
By November of 2012 Brown was out and was arrested in Charleston County on charges of Possession of a Stolen Firearm. The charge was dismissed by the 9th Circuit Solicitor with the notation, "lacking essential element". That means they either could not prove the gun was stolen or that Brown possessed it. The grand jury didn't seem to have that problem. Don't expect the Solicitor to provide any details, though.
Brown also has a "failure to comply" from a 2014 magistrate court case. That usually means a bench warrant.
As we see with just about every thug on thug shooting or murder, Kenneth Lamont Robinson was no angel.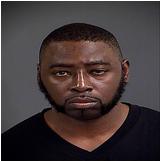 1998 Charges:
Criminal Domestic Violence of a High & Aggravated Nature - Sentenced by Judge Thomas "Felon's Friend" Hughston to 1 year, suspended in favor of 1 year of probation.
2000 Charges:
PWID Marijuana - Reduced to 2nd Offense Possession of Marijuana by the 9th Circuit Solicitor. Sentenced by Judge Thomas "Felon's Friend" Hughston to 6 months, suspended on 3 days time served.
Possession of Crack Cocaine - Dismissed by the 9th Circuit Solicitor.
See what they did there? Dismissed the most serious charge in exchange for a guilty plea to the other charge which they reduced to an even lesser charge.
2005 Charges:
Habitual Traffic Offender - Dismissed.

2008 Charges:
Three (3) counts of Criminal Domestic Violence - All dismissed with the notation, "Can't prove". Not unusual in CDV cases where victims are uncooperative.
2012 Charges:
Trafficking Cocaine - Dismissed by the 9th Circuit Solicitor after the case languished for two years.

2014 Charges:
Possession of a Firearm by a Convicted Felon - Dismissed at the preliminary hearing. We suppose Judge James "Rainbows and Unicorns" Gosnell didn't know that Robinson's conviction for CDVHAN is considered a violent crime under Section 16-1-60 of the South Carolina Code of Laws and bars him from possessing a weapon under South Carolina law and under Federal Law.

Well, there you have it. Just another "twofer" pesticide.
Our gun crime survey updates with the criminal history of Montre Brown to:
19 charges     9 dismissed     3 guilty pleas     7 pending