Shooter Search
Update 6:40 pm: We are told these two shooters are now in custody.
We just got the news flash that NCPD has identified and is conducting a shooter search for the trigger pullers who took out Davin Aiken at Northwoods Mall on Monday. The media tells us the police haven't released the names, just the nicknames of "BJ" and "Gooch". Actually, the latter nickname is "Gucc", short for Gucci. We know this because of our extensive research into their gang, the Young Gunnas, now the Young Reckless Gunnas. That particular gang was friendly with another gang started up by Davin Aiken and Jaquez Brown known as the 40 Boiz. Many of the members claim both gangs. It looks there is some deadly inter-gang drama going on now that they are shooting one another.
In fact, we are hearing rumors that a couple of recent murders and shootings are related to this inter-gang dispute. Think Terrell Wilson and Terrance McNeil. The recent filicide victim "mikemike", aka Michael Brown, Jr. was also associated with the Young Gunnas.
It appears NCPD is searching for Kenneth Robinson, aka "Madden Block BJ" and Timothy Xavier McClendon aka "Slimey Gucc". Robinson deleted his Thugbook page last night, but not before we captured a post put up about an hour before the shooting. EDIT: It seems his FB page is back up now.
The shooting of Aiken may have been a robbery attempt, or it may have been related to the fact that his charges were dismissed from the January 2013 shooting at Hawthorne Suites by the Young Gunnas. Someone worried about his testimony? We have already seen recommendations by gang members that co-defendant Devin Walker be killed.
Robinson is on juvenile probation and is currently free on bond on a number of drug trafficking and weapons charges from January 2014. He was charged as a juvenile and was released wearing an GPS ankle monitor, yet he still managed to shoot someone at the mall. Nice. Didn't we just a news story about how wonderful the new monitoring system is? Hmmm. McClendon was also arrested in that bust. He had a fairly high bond set until Judge James "Rainbows and Unicorns" Gosnell stepped in and gave him a total bond of$25,000 on charges of  two counts of PWID Narcotics Near a School, Trafficking Cocaine, PWID Marijuana, Unlawful Possession of a Pistol, Possession of a Weapon During a Violent Crime, and Possession of a Stolen Pistol.
Here is Robinson's post when he got locked up on the those charges: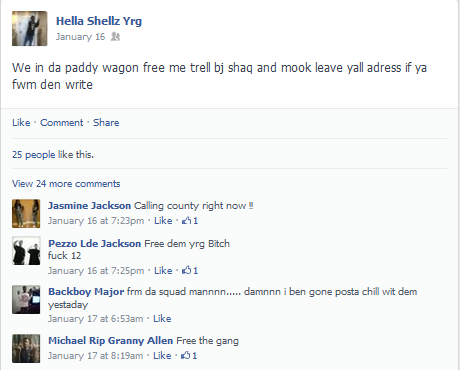 Gosnell reduced McClendon's bond in April and he bonded out in June. So, we have yet another thug crime we can say Judge James "Rainbows and Unicorns" bears at least some responsibility for. Elections have consequences. No one will call him out on that except us. It might be different if some innocent citizen or their child was shot at the mall in broad daylight.
Here are some photos of Kenneth Robinson and his homeboys.
The fellow referred to as "Gucci", or "Slimey Gucc" is actually a thug who has been featured in these pages many times due to the revolving door policies of the juvenile justice system. His real name is Timothy McClendon. He is also a Young Gunna, but has claimed the Bloods in the past. He used to go by the Thugbook names "Hella Shells Yrg" and Dolla Loudpack Madden Block.
Here are some of the photos of McClendon we have previously posted.

We aren't sure, but McClendon might also still be on juvenile probation. He posted this last year. Obviously, he had no plans to take his probation officer's advice.

Think about these two thugs whenever you read those touchy-feely articles in the P&C about how the South Carolina juvenile justice system has cut incarceration rates by double digits. Of course, these maggots are still out there committing crimes, they are just doing it while on probation they received as a result of these ridiculous criminal coddling policies. And you wonder why the violent crime rate is going sky high. You know, there is a concept that says if you are locked up, you can't commit any more crimes. Too bad those in charge are not aware of that.
Elections have consequences, like thug violence at high noon in the mall parking lot.