More Bond Issues
We bet you never though you would hear us say there are more bond issues in Charleston County. Yeah, right.
The rest of the local media are concentrating on major criminal offenses, like two stupid women who got locked up for being drunk and disorderly in Charleston and caused some poor police officer, under pressure from his Chief and Mayor who want Charleston to become a nanny city, to write a report which included this summary:
"To summarize the entire event, the behavior of both offenders was in plain sense unreal. The behavior, profanity, and sense of entitlement exhibited from the offenders was appalling and disgusting. The offenders were a clear definition of how civilized individuals do not act."
We won't go into the issues we have with that police report, but this incident is what the local "news" media classify as a major event. Actually, it is just a way for them to further their agenda of furthering the agenda of some politicians in downtown Charleston.
Also included in the major news of the day is a complaint from Charleston County councilman Henry Darby about a "racist" Confederate Naval Jack hanging on some building at The Citadel. Because, you know, the goal is to imply every institution is racist while deflecting from the real news of the day and refusing to ask Henry Darby about how he feels about bond judges letting repeat offenders free to prey on his constituents.
Regular readers will remember several stories in these pages about a thug and member of the Young Gunnas street gang by the name of Daqone Lance. We have featured him a few times. Most recently when he was jailed for his involvement in a shooting incident in North Charleston in December. Shortly after he was released on bond on those offenses, Lance was arrested again in January of 2014 for a multitude of drug offenses.
Let's review.
2013 Charges:
Unlawful Possession of a Pistol - freed on a $10,000 bond.
Unlawful Carrying of a Pistol - Freed on a $10,000 bond.
2014 Charges:
Trafficking Cocaine
Possession of a Weapon During a Violent Crime
PWID Cocaine Near a School
PWID Marijuana
PWID Marijuana Near a School
Unlawful Possession of a Firearm
Possession of a Stolen Firearm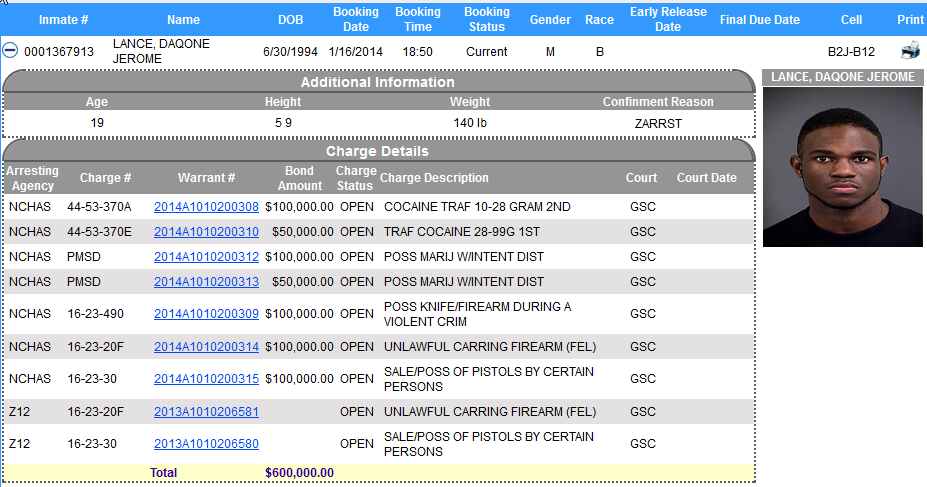 Lance's bond on the 2014 charges was originally set at $600,000 by Judge Linda Lombard.
On 29 April, along comes a judge we largely ignored in the first couple years of writing CTL. This judge has now become a problem for the citizens of Charleston County and an ever increasing portion of the violent crime on our streets can be traced back to him.
We are talking about Judge James "Rainbows and Unicorns" Gosnell. The case of Daqone Lance is yet another illustration of why Gosnell has become a problem. On 29 April Judge Gosnell reduced Lance's $600,000 bond to a total of $30,000.
Remember a while back when we told you that new law about setting bonds on repeat offenders was largely a piece of feel good bullshit championed by Chief Mullen of CPD and 9th Circuit Solicitor Scarlett Wilson? Here is more proof of that.
It appears the bond on the 2013 charges was revoked after the latest arrest, but was apparently reinstated. Lance is now supposed to be on 24 hour house arrest. Yeah, sure. You can find him at "Madden Block Mook" and now using the name "Slimey Mook" on Thugbook. Shall we sample what he has posted since being released by Judge Rainbows and Unicorns?
Lest you think we are just picking on Judge Gosnell over this one case, we suggest you search the blog for his name to read the other cases in which he has released repeat dangerous offenders from jail. Or, you can keep reading this article.
Also released thanks to Judge James "Rainbows and Unicorns" Gosnell was a relative of Daqone's, with whom he got locked up on the charges in January. We are speaking of Fred Fonzo Lance.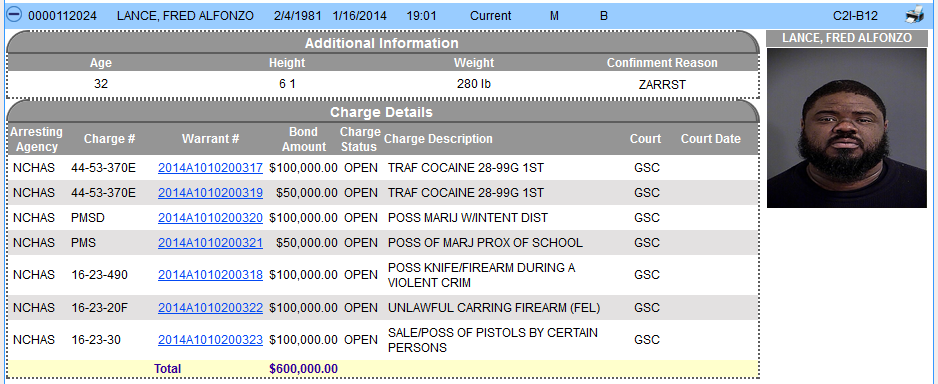 Fred's bond was also set at $600,000 by Judge Lombard. If you want to know why, you can find his rap sheet HERE.
On 15 May Judge Rainbows and Unicorns also granted a bond reduction this repeat felon in the total amount of $30,000. Fred Lance is also supposed to be on house arrest and have no contact with his co-defendants.
Who thinks any of that is likely to happen?
Another member of this gang of drug dealers was also set free by Judge James "Rainbows and Unicorns" Gosnell.  Sharrod Dominique Robinson also had a bond of $600,000 set by Judge Lombard on the same trafficking and weapons charges as the Lances.
On the 28th of May, Judge Rainbows and Unicorns reduced that bond to a total of $20,000.
Anyone else noticing a trend? Have you forgotten how Judge James "Rainbows and Unicorns" Gosnell was disciplined for giving preferential treatment to Charleston municipal Judge Joseph S. Mendelsohn in 2003 after Mendelsohn was arrested in Mt. Pleasant for DUI and open container? Gosnell tried to circumvent the normal booking procedure for Mendelsohn.
To their credit, Mt. Pleasant PD refused to participate in that effort and booked the judge in the way everyone else is. Gosnell responded to the jail that night and held a special bond hearing for Mendelsohn so he wouldn't have to sit in jail overnight.
Gosnell was also reprimanded by the SC Supreme Court for using the "N" word during a bond reduction hearing for a black friend in 2003.
So, we have to ask. How many times has Gosnell been reaffirmed by the Judicial Selection Committee since 2003? It might be time to ask your state level politicians why this judge is still sitting on the bench considering the special favors done for lawyers/judges and the violence that results from his poor decisions to release violent offenders.