Murder in North Charleston
Thugbook is letting us know the reported shooting on Sorentrue in North Charleston has resulted in one fatality. 15 year old Tyquan President, a known member of a newer gang known as "The 40 Boiz", assumed Dead Right There status as a result of his wounds.
We thought we would go ahead and write this up tonight because the "news" media won't bother to research the obvious gang connections.
Wounded in the shooting was 22 year old Charles M. James, aka "Charles James Cutthroaters CEO". Well, the DOB on his page says he's 22. James is a member of the Young Gunnas who have been written about extensively in these pages.
We saw a death notification from President's fellow 40 Boiz gang member Davin Aiken, who now goes by the name "Midland Park Savage Aiken". Aiken is a known shooter who was facing four counts of attempted murder for a shooting on Northwoods Boulevard in January of 2013. We suspect his charges may have been quietly dismissed by the 9th Circuit Solicitor because the General Sessions record for those charges are no longer listed. Only the bond hearing entries are available.
The 40 Boiz are said to be loosely based around the Midland Park Road area of North Charleston. Based on the social media chatter they are affiliated with the Young Gunnas, but not well liked by the Young Goons, another North Charleston gang we have written about extensively.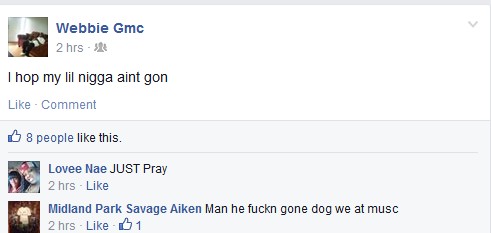 We must be psychic. Actually, no. We just know the odds. Tyquan was actually in our queue for future posts on the 40 Boiz.
Some more shots from Tyquan President.
Everyone seems to know gangs were involved in this.

Apparently Demetrius Woodard of the Young Goonz (same gang as Carlton Lamont Pringle who got a sweet plea deal from the 9th Circuit Solicitor earlier today) is glad an opposing gang member is now a dead President.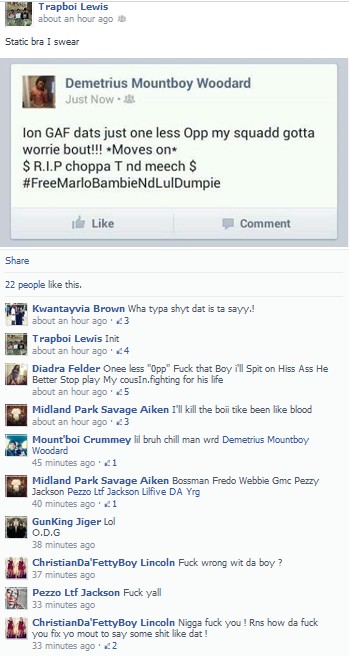 In fact, we have to wonder if this shooting was instigated by this post about the Young Gunnas (now Young Reckless Gunnas <YRG>) disrespecting the Young Goons. We tried to listen to the accompanying video but we didn't get past the shrieking Shaniqua in the very beginning.
It is probably a safe bet there will be more violence as a result of this incident.