From the Mail Bag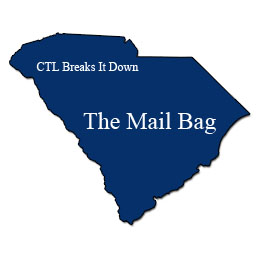 We thought we would post a little something from the mail bag.
We spent some time yesterday dealing with the apparently irate mother of "Justyn Phateboy Davis". A photo of him wearing his 40 Boiz gang regalia was featured on a post about the murder of fellow 40 Boiz member Tyquan President. In that post we discussed the relatively new 40 Boiz gang. Some have told us the picture didn't really apply to the post. While we respect the opinions of those folks, we just have a different take on it.
After that post went up we received some tips from members of Davis' community who let us know who he was and that he was currently facing charges in the shooting of another juvenile in March.
Ms. Davis contacted us via email. That correspondence is shown below. Her comments in red, ours in purple.
"First off, why do you have a picture of my son posted on your site
like he was the one that was killed? Please remove his picture off
of your site ASAP or I will take legal action against this site. He's
under age and I would appreciate it if you remove all of his
pictures."
"That young man is shown on that post because he is a self-professed
and known member of a gang known as the 40 Boiz. The article you
are referring to deals with the murder of a fellow 40 Boiz gang member
- Tyquan President - and discusses the 40 Boiz in general. That
information was obtained via sources associated with him and via
his *public* postings on his Facebook page.
You can make all the demands you want, but your threats have no
basis in the law. You son proudly and very publicly represents
himself as a member of this gang. Maybe you should talk to him about that."
Next comes the familiar mantra that we shouldn't publicly expose gangs and gang members, but should instead strive to help the poor souls.
"My son is not in a gang.  You should be trying to set the standards and should want to help little boys in stead if trying to help harm them. I'll tell you what, IF ANYTHING happens to my child because you have his pictures posted on your site, it will be on your hands and you don't want that. Use your picture. My son isn't able to use
Facebook or post on Facebook , so you have your facts all wrong,
take his pictures down, I don't make threats to people at all, you are
interfering with my family and making false accusations against my
minor child, you're  doing defamation of character against him and
it won't be tolerated.   All I ask was for you to take his picture
down off of your site and  you want to be a smart ass and then hide
behind this site. Why not show yourself. If you wear the color red or blue
does that make you a self professed gang member? If you wear white
does it make you a member of the Kkk? If I walk around with Jay Z
on my chest, and throw up hand signs, does that make me a member of
the Illuminati? Someone will be in contact with you because I'm not
going to let this ride. Have a good day and May God bless you"
Of course her son isn't on Facebook - at the moment. He is locked up. Later today we will even have video of his fellow gang members hanging out outside the juvenile detention center and giving him a shout out. We decided to give her the benefit of the doubt, however.
"Your son isn't on FB? Sure about that? We assume you are referring
to the photo of the guy wearing the 40 Boiz shirt. Is that correct?
If you prove to us the gang member on the page "Justyn Phateboy
Davis" is not your son we might have something to discuss."
"Positive, my son's not on Facebook, do you know how many people can
open up a Facebook page and it's not them?  Yes, I'm referring to
that child. . I can't prove to you that he's not my child, he is my
child."
"When and what was his last posts on Facebook?"
"Visit the page and research it yourself. When you do, let us know if someone else
opened that page under his name and posted references to his gang membership and photos of him wearing the gang's clothes."
"Too many inflammatory statements from you and your site against my
child."
"Alright, so Justyn Phateboy Davis is your child. He is on Facebook. While on Facebook he publicly proclaims his membership in a gang known as the 40 Boiz, which is associated with a number of other gangs in the Lowcountry known as the Young Gunnas, the Island Goonz and YCOR. He is currently charged with shooting another young fella in the buttocks as a result of his gang involvement.
We notify the community of the existence of the gang and report on their activities
and you deem us the bad guys.
Accurate?"
"He's not charged with anything.  If you guys do your research and do it right, then you should have know that the shooter is still at large. You guys(the police), had the person that shot that little boy, but in stead, you let him go, and he's walking around free. After all of this comes to light, I'm taking legal action against you, your site and others. I bid you good day."
Ah, the old "you guys are the police" refrain. Not even close. And we all know the authorities just throw people in jail with no charges all the time.
"Again, do you realize how freaking easy it is to open up a Facebook page? I don't need to do research, however, you and the rest of the police force does."
Hmm….if more parents stepped up and did the research they might know their kids were in a gang before the feces hits the fan and someone ends up in jail or dead.