News Notes
Doris Spann Argoe has been charged with murder in what is reported to be an incident of domestic violence on the Isle of Palms. The incident occurred at a home on 24th Avenue on 21 March at about 4 p.m. Details are still limited.

Convicted and registered sex offender Troy Basilio Jenkins was charged Saturday with Criminal Sexual Conduct by Charleston police. He should have a bond hearing today.

Jenkins, of Nassau Street in Charleston, is a registered sex offender due to a previous sexual assault conviction under the Uniform Code of Military Justice while he was in the U.S. Navy. He was convicted in 2000 and appears to have been released from prison in 2007.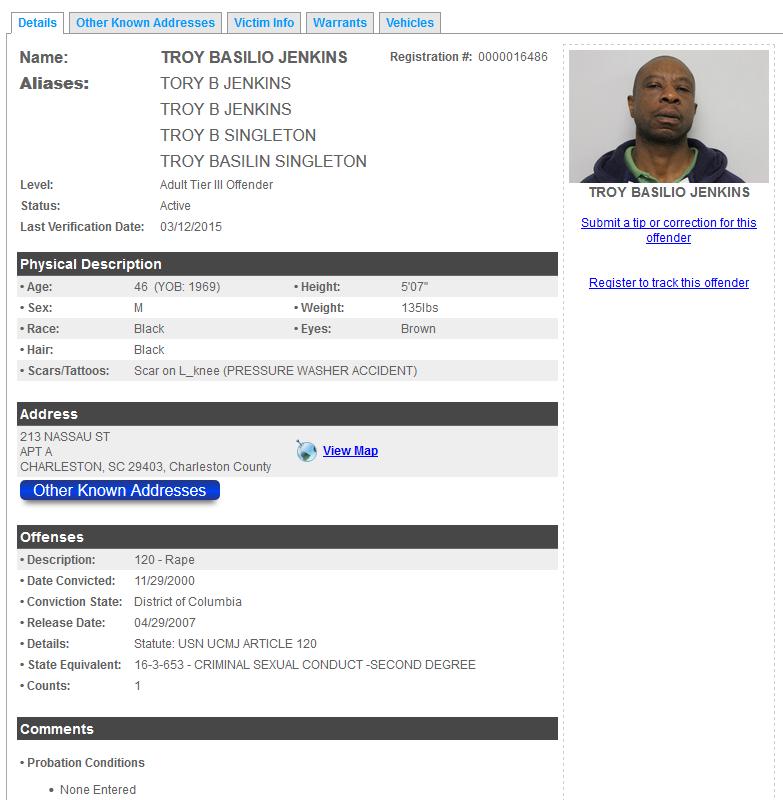 Jenkins was charged in February 2013 with Assault on a Police Officer. He plead guilty and was sentenced by Judge Stephanie McDonald to 1 year, suspended to two years probation. That sentence was handed down in October 2013. A check of public records reveals Jenkin's probation case has been closed.
Most normal people would assume Jenkins, having been sentenced to two years probation in October 2013, would still be on probation 17 months later. Unfortunately, 24 months doesn't really mean 24 months in our criminal justice system. Just another example of how our system now seems to be geared toward releasing criminals as quickly as possible and to hell with the victims and the general public. You can thank your politicians for that. Sentencing reform - yeah, right.