So It Begins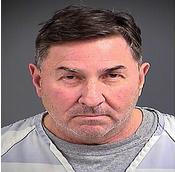 And so it begins. What, exactly? The legal maneuvers to clear the Berkeley County Sheriff of criminal charges of DUI and leaving the scene of an accident.
First, a note from CCSO regarding the handling of H. Wayne DeWitt at the Sheriff Al Cannon Detention Center.
"In an effort to clarify how Sheriff DeWitt was handled by the Sheriff Al Cannon Detention Center, the following are the facts. Sheriff DeWitt was brought to the detention center at 8:46am and his processing into the facility was completed, including fingerprints and photograph, at 9:45am. From that point on he was lodged in the detention center. He was never at the Charleston County Sheriff's Office's headquarters."
The information that DeWitt was being held at the offices of CCSO HQ was first put out by one of our local "news" agencies. Our sources informed us simply that DeWitt was held in an office rather than a cell.  But, okay, we will take you at your word. Aside from that, we still have issues with the way CCSO handled this situation.
CTL broke the news of DeWitt's arrest and presence at the SACDC just before 11 a.m. Sunday. At that time, the record showed "photo not available" and DeWitt's full name was not listed. Since most people know him by his middle name, Wayne, we find this curious.
The time of capture on this image was 10:56 a.m.

Twenty minutes later, when the backbenchers at the local "news" stations started poking around as a result of our post, that booking photo mysteriously appeared. Time on this screen capture was 11:18 a.m.
If the booking process was completed by 9:45 a.m. why did it take an hour and a half for that photo to appear? Are the computers, servers or software at the SACDC that slow? If they are, just say so. We've been having some computer and server issues lately and we can sympathize. Otherwise, just admit there was some professional courtesy being extended, or just tell us you felt the publication of DeWitt's full name and mugshot might have endangered his well being in your facility and move on.
We had no issue with the fact that no charges were listed, as there were no charges against DeWitt in Charleston County. We know how that works and only the "hold" will show up.
Even the Berkeley County Clerk of Court used his full name.
Now for some legal discussion.
Some news agencies, who have not been shy about their willingness to protect the Berkeley County Sheriff in the past, are helping to lay the groundwork for DeWitt's defense. Judge Polk, a good pal of DeWitt's, also laid that foundation at the bond hearing.
Take special note of the comments in the "conditions" block of the records above. "Connor did not make the arrest" and "cornner did not make the arrest". Yeah, we know, it is Berkeley County government after all, but what they meant to type was "Coroner did not make the arrest". And there you have the foundation for a future motion for dismissal of all charges on the basis the SCHP made an "unlawful arrest". They want you to believe the Sheriff of any South Carolina county is exempt from arrest unless the coroner is dragged out of bed and brought to the scene to snap the cuffs on.
The Propaganda & Criminals tells us the Trooper wasn't aware of the claim that only a coroner can arrest a sheriff. Whether that legal claim is true or not the U.S. Supreme Court has repeatedly ruled that an officer's mistake or error in applying the law does not necessarily invalidate an arrest. In fact, they confirmed that earlier this month.
We don't really have an issue with the personal recognizance bonds issued by Polk. We fully expected that to happen due to factors such as no official criminal history and DeWitt's ties to the community. Polk, however, claimed the only reason he issued the P.R. bonds was because DeWitt was not arrested by Berkeley County Coroner Bill Salisbury. Polk, supposedly an impartial member of the bench, was helping to lay the foundation for dismissal.
Here is the pertinent South Caroline statute every one is referring to.

Now, we didn't attend law school, but we have a bit of common sense and we occasionally exercise it. A careful examination of that statute shows it doesn't say a word about an on-view arrest for a crime in progress or an arrest for an offense just occurred and based on fresh evidence.
That statute seems to deal only with serving process on the sheriff. It does not specifically mention "arrest". Based on the way some are interpreting that statute, a sheriff cannot even be given a traffic ticket. In fact, they seem to believe a sheriff can walk into a convenience store, empty the till and gun down the clerk and nothing can be done until the coroner shows up.
We did some searching and found an interesting link at the Peach County, Georgia website. The law in Georgia and South Carolina tends to be similar as both states base their statutory law on the old English common law.

Of course, given the joke that is current South Carolina DUI law and the ridiculous precedents set by judges, the DUI charge against DeWitt will likely be tossed anyway. Let's hope the state trooper didn't mangle a word or two during the field sobriety testing.
Don't forget, the top law enforcement official in Berkeley County refused to take a breath test as mandated by state law.
So much for that oath of his, huh? Oh, wait a second, Section 26 of Article III of the South Carolina Constitution doesn't actually specify "obeying" the law. And you wondered how all those elected officials get away with stuff.

Sheriffs are also required by Section 23-11-20 of the South Carolina Code of Laws to take an additional oath as specified by Section 8-3-20.

Unfortunately, Section 8-3-20 was repealed in 1989 and the referring statute was never updated.

Section 23-11-110 lays out the requirements for someone who wants to be a sheriff. Paragraph 6 of that statute specifically states a DUI conviction within the last 10 years is a bar to holding that office.

Section 23-11-40 details how a sheriff can be replaced by the Governor.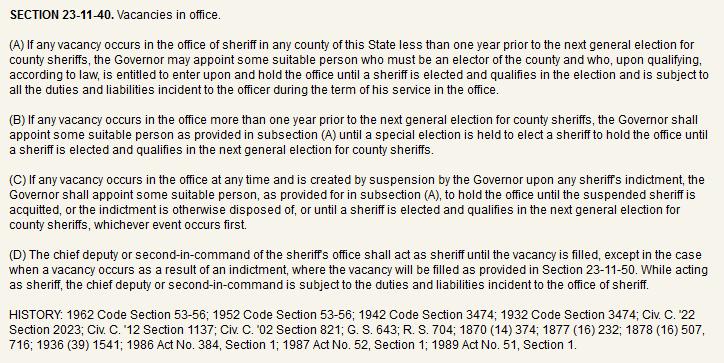 Apparently the Governor can only act against a sheriff if an indictment is issued. Don't get your hopes up, folks. This incident did occur in Berkeley County, after all.
Now we all get to sit back and wait for the backbenchers who have protected DeWitt for years to FOIA things like incident reports, accident reports, in-car video of Hanahan police officers and state troopers, and video from inside the breathalyzer room.
In the meantime we have been rather shocked at some of the comments on social media.
Strangely enough, the same folks who have repeatedly posted nasty comments when regular cops are arrested for DUI are now posting comments supportive of DeWitt. They want everyone to know they believe DeWitt was stressed out, made a simple mistake and his behavior and criminal actions should be excused. Oh, and they want everyone to know what a nice guy he is in spite of the fact he was driving under the influence, slammed his county owned vehicle into a vehicle driven by an innocent citizen, injured that citizen, then fled the scene and tried to hide and subsequently chose to ignore the state's implied consent law by refusing a breath test.
Heck, even the local "news" agencies are taking great pains to stress the innocent citizen hit by the drunken DeWitt was "not seriously injured". Several even tried to fool you into believing the truck DeWitt was driving "was registered to him" when it was actually a county vehicle.
But all those other officers who "made a simple mistake" or were "stressed out", but didn't injure an innocent citizen, were complete shit-heads, right? The idiocy never fails to amaze us.
Here is an interesting question - on the off chance DeWitt is convicted of DUI, will Emma's Law require the county to place the interlock device on any county vehicle he drives?
Due to DeWitt's refusal to comply with the implied consent law his license to drive is supposed to be suspended for six months. We asked a couple of officers about that and they laughed and laughed. Apparently, the administrative hearings at the DMV for violations of the implied consent law are basically a running joke, if not a source of frustration, for most officers.
We are sure you folks are watching to see how this develops, but we warn you not to expect too much.