Strangely Suspicious
The strangely suspicious, on-again-off-again investigative skills of the Propaganda & Criminals was on full display again today.
In their recent story on a shooting by, and the subsequent alleged suicide of SCHP trooper in training Douglas Moses, the investigative skills of the P&C were in fine form. They posted a link to the trainee's Facebook page and discussed the photo of the SCHP vehicle shown there. We have to wonder how they missed reporting his military service and taking a dig at that, too.
Compare that to the recent story on the arrest of Brett Alan Brown for robbing the Bank of America on Core Drive. They didn't bother to link to his Facebook page.
The P&C would rather point out the picture of a SCHP cruiser on Moses' page and ignore the obvious irony present in photos of confessed bank robber Brown sporting some superhero t-shirts.
And the mugshot of the guy who robbed the bank Core Drive on Friday, then confessed to also robbing the BB&T Bank in Summerville on Thursday afternoon.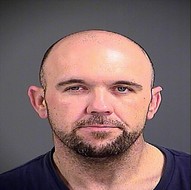 You know, it isn't like finding one Facebook page was easier than finding the other. Compare the profile photo from Moses' page to the one from Brown's page.
It took us less than 30 seconds to find both. And what about the social media feeds of all the rest of the thugs in the Lowcountry? What is the Propaganda & Criminals' excuse for not finding and reporting on those? Oh, no excuse. Just some bias and a whole lot of intentionally selective reporting.
Still paying for that subscription?