New Bern, NC
Officer Alexander Thalmann of New Bern, NC died from wounds suffered when he was shot by a convicted felon on the evening of March 29th. He was shot in the face. Thalmann had been with the New Bern Police Department just seven months.
(Part two located at the bottom of the page)
Thalmann and Officer Justin Wester had observed suspicious activity and attempted to question Bryan Augustus Stallings. Stallings, who was armed, fled on foot. Thalmann and Wester pursued him. Stallings turned and shot Thalmann in the face. Officer Wester was also shot, but managed to return fire and kill the felon.
Officer Thalmann was a Lance Corporal in the Marine Reserves and had served two combat tours in Afghanistan.
Stallings has a criminal history in at least two states, North Carolina and Florida. That history involves resisting arrest, fighting with police, larceny and narcotics offenses. He was convicted in Florida in 2001 of Lewd and Lascivious Conduct with a victim under 16 years of age. He was convicted under the name William Ellison.
We searched the NC sex offender registry for both names with no results. We did find him listed at HomeFacts.com, a useful resource when state records are incomplete or missing. His Florida sex offender registry listing is also shown below.
In typical fashion, the media let friends of the perpetrator make all sorts of statements and presented them as facts. This is a common tactic of the media. There has also been some controversy regarding the mayor and other administrators in New Bern over the support they have shown for the killer of Officer Thalmann. That same support has not been shown for their murdered police officer.
Apparently New Bern Mayor Dana Outlaw's experience as a real estate appraiser didn't contribute much to his ability to properly appraise real world situations. Let's see what the Mayor had to say about the death of one of his officers and the wounding of another. Keep in mind, he hadn't posted to his Facebook page since February 18th. Two days after the shooting, after hearing Officer Thalmann had died from his wounds, the Mayor posted this: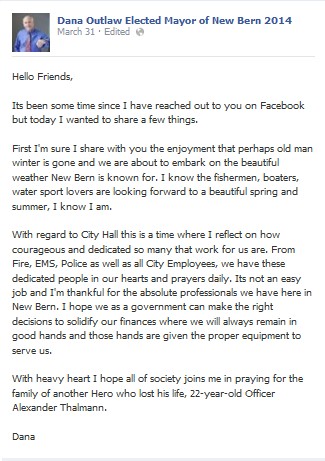 Nice to know the weather takes priority for the Mayor, isn't it? In addition to that serious breach of common sense the Mayor attended the funeral of the cop killer and convicted sex offender on April 3rd. And just in case his employees didn't get the message from that, the Mayor cancelled the memorial for Officer Thalmann scheduled for later that same evening.
To be fair to the Mayor, he may have been trying to prevent a potential conflict which might have resulted from the fact that two of his aldermen had invited relatives of the cop killing convicted sex offender to the memorial. What the hell is going on with the idiot in government in New Bern?
A local attorney, Steven Long, organized and held a memorial for Officer Thalmann since the town couldn't seem to do it. Click on over to his website and let him know how much you appreciate that gesture.
Let's see what the New Bern Housing Authority had to say on their Facebook page.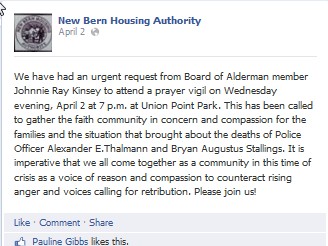 As regular readers of Charleston Thug Life know, and readers of American Thug Life will soon discover, we tend to go a bit deeper than the media. Let's take a look at some of what is being said by one segment of the community in New Bern.
Here is a video taken by a local of the funeral procession for Officer Thalmann.
And a screen capture with comments.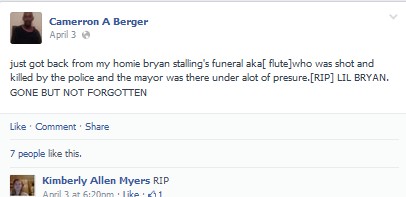 It seem Mayor Outlaw tends to fold under pressure.

We tend to think the surviving officer should probably be given the Mayor's job.

At least Baraka is warning New Bern PD of what's coming this summer. That was considerate of him.
Is Tony Milo and a complete and utter moron? Read the entry below and you decide.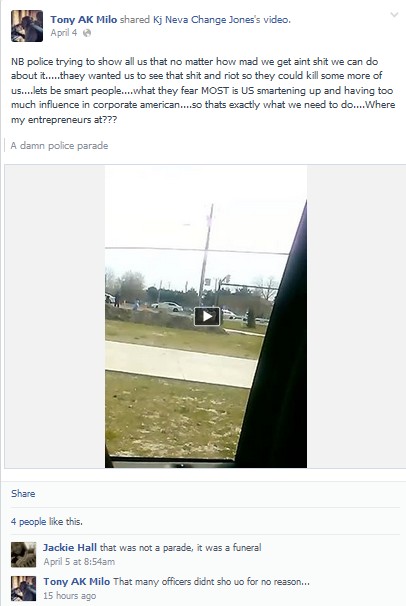 Jackie Hall tried to inject some common sense into the situation, but Tony wasn't having none of that. How dare she try to intrude on his grievous stupidity.
Tony wants you to know he isn't a racist. He just hates the police, judges, DA's, the system and white people.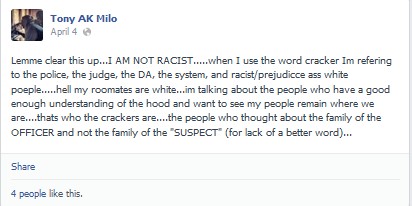 Tony wants everyone to mourn the passing of the convicted felon and sex offender who killed a police officer who was just doing his job. Sympathy? Anyone?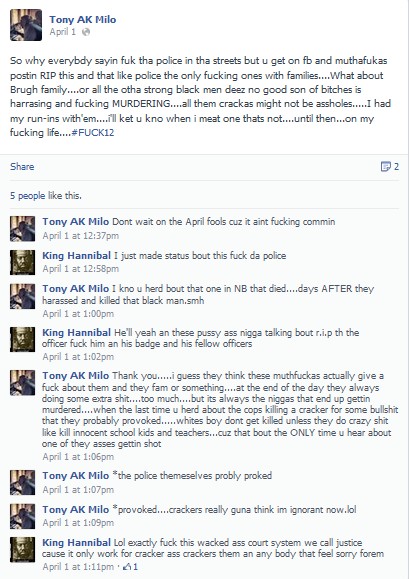 You are correct, Tony. Crackers and everyone else do think you are ignorant.
Tony seems to forget his friend Bryan Stallings was a convicted felon POS who was carrying a firearm in violation of both federal and state law. Tony's pal Kristopher (King Hannibal) is a (c)rapper who likes to post about his support for the militant outlaw group the Black Prancer Party.
New Bern, a relatively small town with a fairly high crime rate and a bit of a gang problem. We might have to delve into that a bit more in the near future.