40 Boiz
We have been doing a bit of research into the relatively new gang calling themselves the 40 Boiz. According to word on the street they like pulling guns and robbing people. That is not a good business model in the hood. It isn't conducive to a long life. Members of this gang have already been involved in a number of shooting incidents, both as perpetrators and victims. Our research indicates they are affiliated with other gangs previously mentioned in these pages, namely Young Gunnas (now referred to as Young Reckless Gunnas), the Island Goonz and YCOR (Young Checkit Or Respect it). Hey, we don't name 'em. Of course the YCOR group claims that is (c)rap label.
We will start with a video of some of these gang members on bicycles making a trip to the Charleston county juvenile detention center so they can stand outside and yell shout-outs to their incarcerated homeboys.
In the video you can hear these gang members shouting for Young Gunna Timothy McClendon, aka Gucc, aka "Hella Shellz Yrg". He was formerly known as "Dolla Loudpack Madden Block" the last few times we profiled his gang and criminal activities.
You can also hear them shouting for "Duey", aka "Justyn Phateboy Davis". Davis is a member of the 40 Boiz. You should also be able to make out references to "YRG" (Young Reckless Gunnas) and listen to them beef through the windows with a member of a rival gang.
At the end of the video someone reports the cops are coming and the gang members hurriedly pedal away, beating a hasty retreat like little bitches while screaming "Fuck 12!" Yeah, you bad.
We have already pointed out a few of the 40 Boiz members in related posts earlier in the week. One of them, Davin Jerome Aiken, has already deleted his social media feeds as a result. His Thugbook page had been under the name "Midland Park Savage Aiken". This isn't our first encounter with Aiken.
Aiken was previously charged with four counts of attempted murder for a shooting on Northwoods Boulevard in February of 2013. It appears those charges have been disappeared by the 9th Circuit Solicitor as only the bond hearing records still exist in the database. The general sessions entries are gone.
Aiken's co-defendants in that incident were Devin "Dizzy" Walker, Theodore "Swaggout" Holmes and Mark Laverd "Psycho" Swinton. All had previous ties to the Young Gunnas. It appears Holmes' charges in the Northwoods Boulevard incident have also been done away with by the 9th Circuit Solicitor, while charges against Walker and Swinton are still pending.
We have already mentioned that the now deceased Tyquan President was a member of the 40 Boiz, media reports portraying him as a childlike choirboy just out for an innocent bicycle ride to the contrary. Theodore Holmes provides further confirmation with this post:

The other "innocent bicyclist" shot in the Sorentrue incident on Monday is Charles James, who goes by the name "Charles James Cutthroaters Ceo" on Thugbook. He, like 40 Boiz member Tyquan, associates with the Young Gunnas. Indeed, he claimed the gang as recently as April 18th.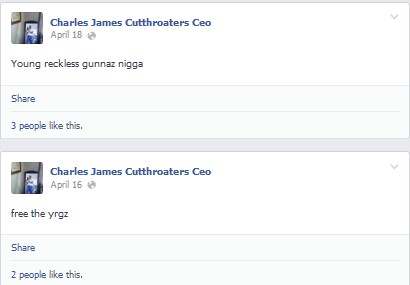 We do love the sentiment here, though. "Sorry you're dead, glad I'm alive!"

James couldn't wait to get home from the hospital and put his new gangsta bonafides on display for the world to see. This went up April 22nd.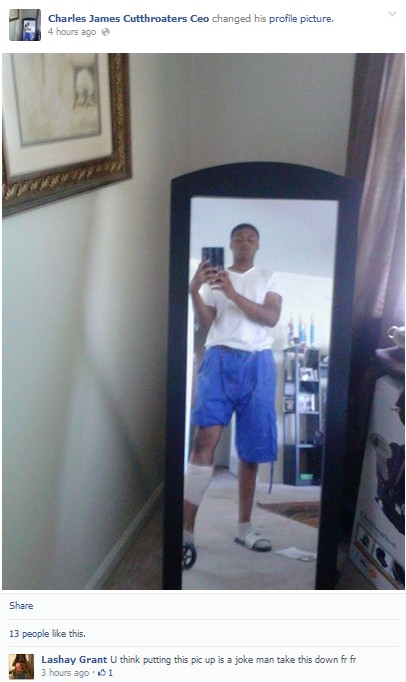 Earlier in this post, and in some previous posts we discussed 40 Boiz gang member "Justyn Phateboy Davis". His mother claims he isn't in a gang, but his friends say otherwise.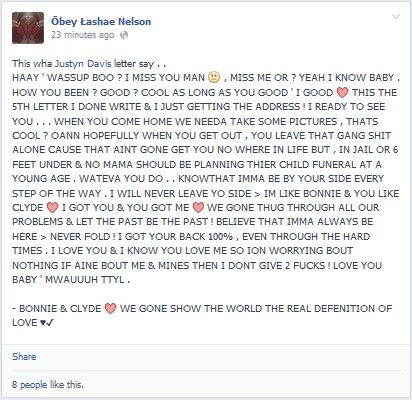 Justin, aka "Duey", is currently kept behind the walls of the Charleston County Youth Detention Center, allegedly for a shooting in Forest Hills in March of this year. He is one of the gang members getting shout-outs in the video above. Here is the photo of Justin Davis wearing his gang regalia his mother doesn't like.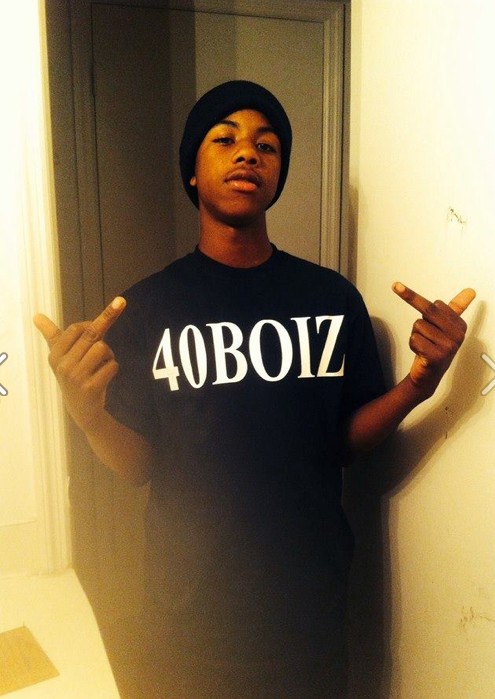 There is another Davis brother who claims the 40 Boiz. He is "Gerard Davis". Based on all the "free him" postings on his wall, it appears he's been locked up a few times, too.
We can't tell what is in that left hand pocket. Can you?
Also charged in the March shooting incident was a 15 year old girl. We don't have her name, but our citizen sources tell us she has been released and members of the gang are threatening to do her harm. Why?
Well, another source in the community who is familiar with the gang tells us there may, in fact, be some validity to the claim of Davis' mother that he didn't shoot anyone. We have been told that another gang member allegedly shot that 15 year old in the ass and is letting Davis take the fall for it. We have now had two separate citizens inform us that the actions of a gang member who did the shooting in Forest Hills led directly to the murder of Tyquan President on Sorentrue Avenue on Monday as a result.
The citizens tell us that person is one Perry Jackson, aka "Pezzy Jackson". Perry has a brother who is also in the gang. His name is Pierre Jackson, aka "Pezzo Ltf Jackson". These two hail from Ladson. Here is a nice photo of the brothers. Note the cheap Hi-Point semi-automatic pistol.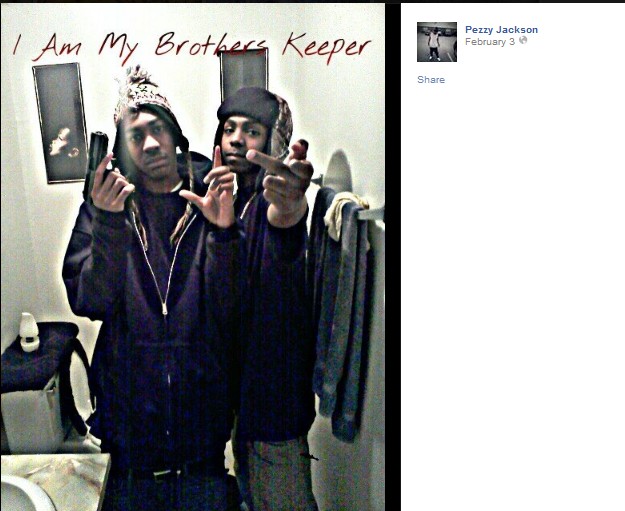 And a few more.
Perry gives a shout-out to all his fellow gangsters who shit their pants when the lead flies: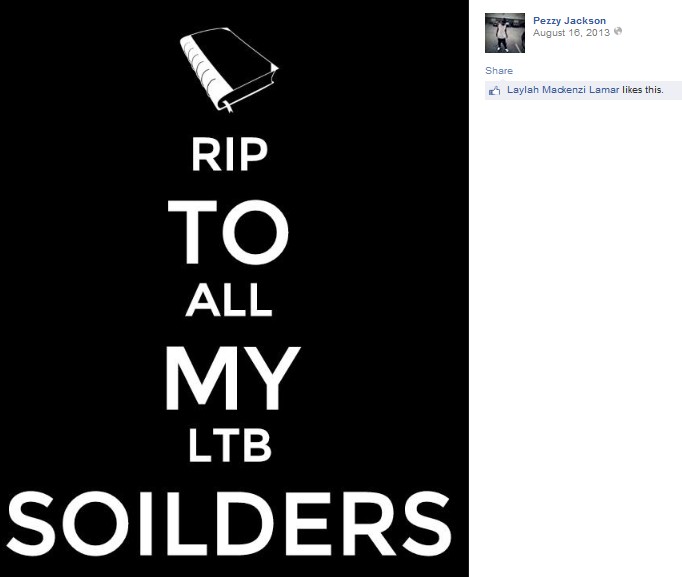 Here is evidence of the link between the 40 Boiz and the Young Gunnas. It is they typical thug demand to free another thug. This time they want Timothy McLendon (Gucc/Gucci) of the Young Gunnas freed.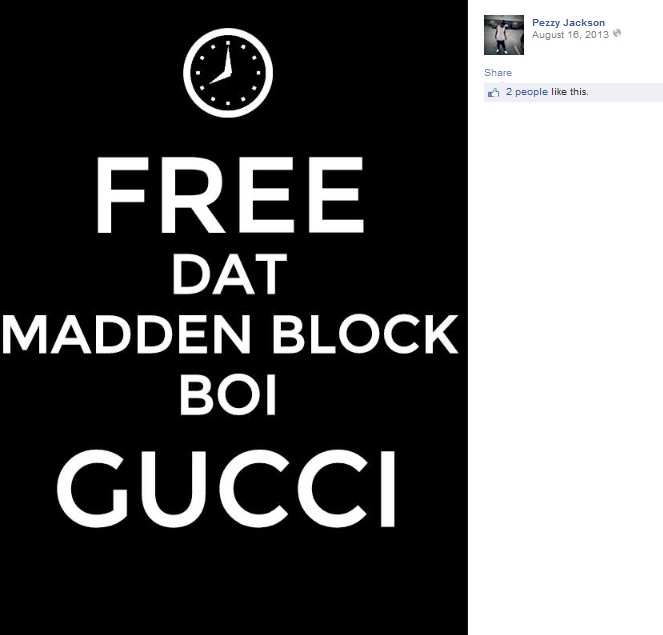 The Jacksons also claim another set they refer to as "LDE" or Live and Die Entertainment. Another alleged (c)rap label, don't ya know. Meet Pierre.
Apparently the cops are looking for Perry as a runaway. We are told he is supposed to be residing with an older brother on his father's side, but ran way from there to live the gangsta life with Pierre.
The citizens who contacted us did mention that some of these 40 Boiz gang members do have concerned parents whom these idiot ignore because they think the gang will be there for them. Heck, just watch the video. Get arrested and the gang will come yell at you through the brick walls and barred windows. Can't get more supportive than that, right?
Some of the postings above from "Trapboi Lewis" discussing the 40 Boiz are interesting. He was previously featured in these pages and is normally associated with the Young Gunnas. It looks like he's repping the 40 Boiz now. His real name is Shyheim Lewis and he's been locked up quite a few times a juvenile.
He doesn't like cops very much, does he?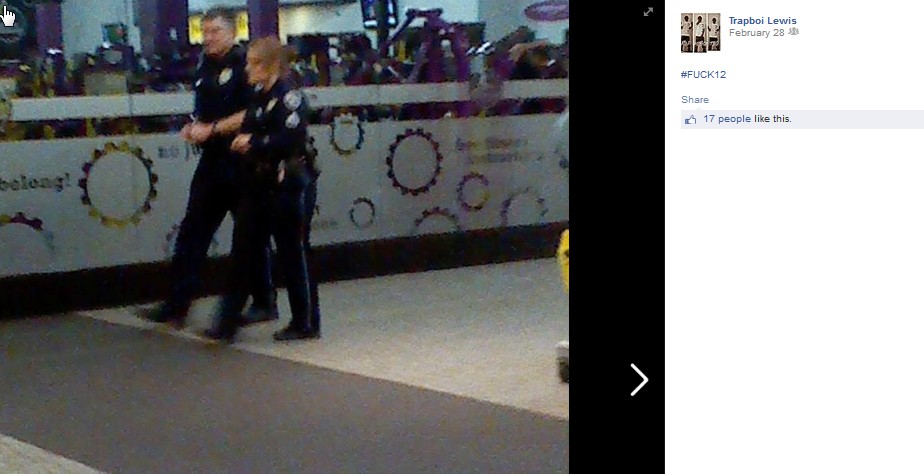 A fellow with the last name Green, aka "Lilfive DA Yrg" doesn't care about stuff. He claims the Young Gunnas.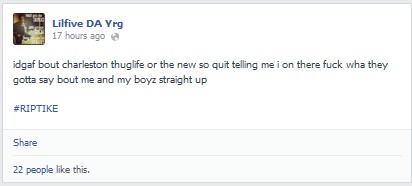 That was posted in reference to our publishing this picture of the Young Gunnas/40 Boiz driving around looking for some Young Goons.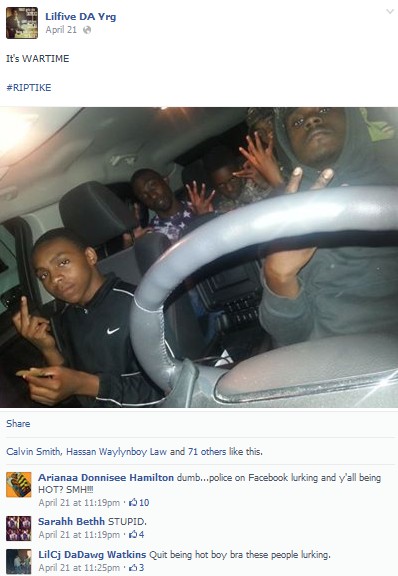 Citizens have told us this post is in reference to the 15 year old female involved in the Forest Hills shooting in March.
This one provides another connection between 40 Boiz, Island Goonz and Young Gunnas.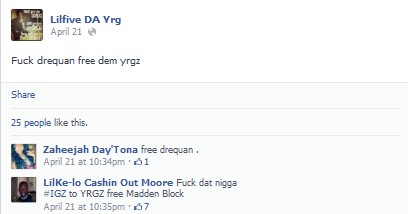 This fellow, "Jiggadaheartstopper Nelson" was apparently present when the murder occurred on Sorentrue Avenue. He was repping the 40 Boiz as of April 17th, demanding his fellow gang member Justyn Davis be freed.

He got some of Tyquan President's blood on his hands last Monday and now has changed his tune.
Of course, another hardcore banger calls him a bitch nigga for seeing the light. That's the culture we are dealing with here, folks.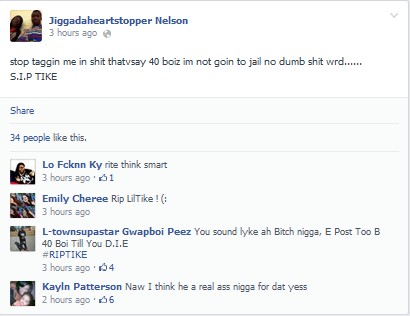 With any luck, Jiddadaheartstopper actually means what he's saying. We certainly hope so. In order to succeed he will need to separate himself from all of his current homeboys. If he doesn't do that, we will be reporting on him again in the pages.
Best of luck to him.