Wanted, Murder and Gun Control Fiascos
We received a tip from an alert citizen earlier today. That citizen tells us she noticed more police than usual in the crime ridden area known as Hunters Ridge Lane off of Ashley Phosphate Road. Like any good citizen with an interest in their community should, this citizen made a few inquiries. It was discovered that police were in the area looking for CTL alumni and Phatebois/40 Bois gangmember Perry Jackson, aka "LTown Peezy Dashland TikeGang". Remember him? We just talked about him the other day when we reported on the arrest of three of his fellow gang members for the murder of Gerrod Metoyer.
Here is a recent photo of Perry Jackson taken on Hunters Ridge Lane.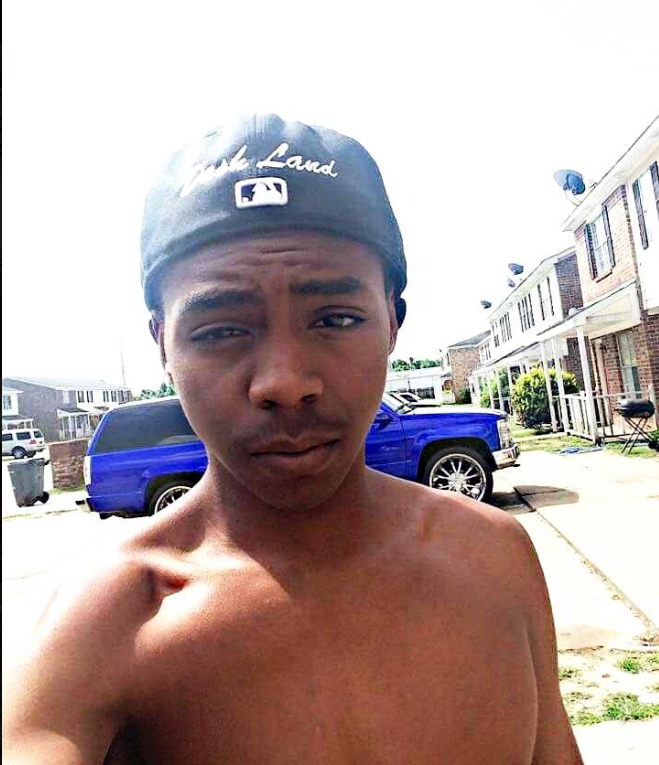 Jackson apparently knows he is wanted by the authorities, as evidence by this post from July 10th.

There is also some discussion amongst gang members regarding who might have snitched about the murder of Metoyer.  Hendrick Fulmore, aka "Hendo Tha Soljah", seems to know all about the murder. Maybe the cops should drag him in for a discussion.
In other news we made an interesting observation on the mobile app for WCIV.  When we opened the app this morning 17 of the 20 stories there had to do with race or the flag. Strangely enough, WCIV even violated the standard operating procedure of most media outlets when they reported on a Sunday shooting in West Ashley. WCIV made it a point to tell readers two white guys went into a house to make a drug deal and were shot by a black guy. This is a definite violation of the standard policy espoused by your local news organizations who routinely tell us "race doesn't matter", even when they tell you cops are looking for a particular suspect. In light of the "all race all the time" reporting of all of our local news outlets we can only assume why WCIV would violate that policy. We will leave it up to the reader to decide the motivation.
An arrest has been made in the murder of Demeatrius Smalls. He was shot to death on July 7th on Hazelwood Drive. Thomas Deangelo Ancrum has been charged with Murder and Possession of a Firearm During a Violent Crime.
Ancrum just wrapped up some pending cases from 2013 and 2014. He got a sweet deal from the 9th Circuit Solicitor under the "1st felony is free" rule. Ancrum was charged with 1st Degree Burglary, Unlawful Carrying of a Pistol and Possession of a Controlled Substance. The drug charge was dismissed on February 9th. The burglary charge was reduced to trespassing. Ancrum was sentenced t0 1 year on the gun charge by Judge Roger Young, who promptly suspended that year in favor of a few months of probation.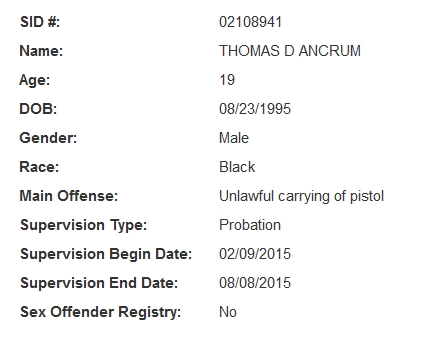 Had those charges been taken a bit more seriously, Demeatrius Smalls might still be alive. Of course, when we point out how the criminal (in)justice system is directly responsible for the murder rate in the Lowcountry we are just an evil "internet tabloid".
Some in the media have been trying to imply Dylann Roof was able to purchase a handgun due to a screw-up in the background check system. Most of them are reporting inaccurate information. For a more reasoned analysis we suggest you head over to this story.
This excerpt proves interesting since the Lexington County court records still show no indictment for Roof on the drug charge.

Roof was charged with a misdemeanor, not a felony. He wasn't indicted and he has not been convicted.
This fiasco reminds us of the 2013 case of "Batshit" Alice Boland. Remember her? She is the mental patient who bought her firearm from a gun store prior to going to Ashley Hall and trying to kill a teacher. That was another background check fiasco. The system is supposed to prevent mental patients from purchasing firearms. Then your wonderful politicians passed the HIPPA laws supposedly preventing anyone from sharing medical records, to include those from mental institutions. That allows mental patients to pass a federal background check. Don't believe it? Boland bought her gun in a Colleton County gun shop after passing a bckground check.
After studying the relevant laws and the analysis by the Washington Post, it would seem the biggest problem with the background check system heralded, and constantly added to and muddled, by liberal lawmakers is that the feds charged with enforcing the law and administering the system are just as confused about it as the rest of us.