The Push Begins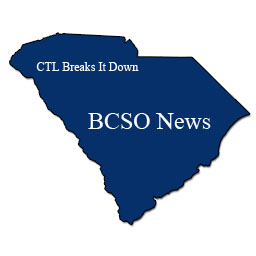 The push begins for a new sheriff in Berkeley County. The media push, that is. The Propaganda and Criminals made their push in an article on 5 February. As usual, their bias was obvious to any who actually read the piece. They seem to be pushing hard for current acting sheriff Rick Ollic, even posting up a photo of him showing a tactical vest to some Cub Scouts. Then they showed photos of two other potential candidates, Chad Caldwell and Marty Housand. We found it interesting they failed to put up a photo of the current favorite of a bunch of Berkeley County residents, Brian Adams.
That is how the P&C operates, though. They demonstrate their bias in subtle ways most folks wouldn't give a second thought to. Too bad. We had a fleeting hope the P&C was toying with the idea of doing some real reporting. That didn't last long.
We did some poking around and discovered the P&C's favorites both have some serious impediments to ever being elected sheriff. Well, in most counties they would be impediments. In Berkeley County those things are considered a heck of a resume. You see, when it comes to politics in Berkeley County they don't like to have the apple cart upset. That tends to get in the way of all of the schemes and scams everyone is participating in. They need someone as sheriff who will overlook and even assist in and facilitate those schemes and scams. All the better if that person has some personal or professional skeletons in their closet which can be used to control them.
As far as this Ollic character goes, there are plenty of other things to keep him out of the seat, not the least of which is the tutelage he was given by the former sheriff.
We are hearing rumors that the Governor will definitely be appointing an interim sheriff. As we mentioned in an earlier post, the first thing any interim sheriff needs to do to protect himself is conduct a full blown financial and property audit of the entire department. This needs to be done with the aim of accounting for all funds and property and with the ultimate intent of filing criminal charges against those responsible. We are pretty sure the past month has been spent updating the BCSO filing system. In other words, those shredders were probably running full time.
Prior to our foray into the issue of the dirty birds at BCSO we would have recommended SLED be brought in. Over the past year and a half our faith in SLED has been badly shaken, at least as it pertains to investigations of BCSO. Despite numerous SLED "investigations" of the agency the only person to ever be charged with anything was a detention officer who pushed an unruly inmate against a wall. The only reason that officer was charged was to serve as a distraction from the news of a nurse bringing drugs and blowjobs to inmates at the Hill-Finklea Detention Center. News that only CTL reported, by the way. The BS charges against that detention officer were dismissed several months later and he returned to work.
The nurse has never been charged. The female detention officer who tried to smuggle a knife and a handcuff key to her inmate boyfriend has never been charged. See what we mean? And those are just two examples.
Given the apparent reluctance of SLED to act on irregularities in Berkeley County, maybe an outside agency like the Georgia Bureau of Investigation could be brought in to conduct the audit and and resulting investigations. It has been done before elsewhere in the state.
Remember back in August when we wrote about a deputy from the Drug Enforcement unit who was allowed to resign after he was found to be stealing money allotted to him for drug buys? We have been made aware of another issue with that deputy.
At some point that deputy signed out a shotgun from the BCSO armory. It is alleged he signed it out so a relative could use it. That shotgun never made it's way back into inventory. That same shotgun was recently discovered in a local pawn shop. Just another of those BCSO issues you would never hear about it if CTL was not around. Will any charges result? We shall see.
Hopefully we can get a family member or two hired out there at BCSO before a new regime takes over. It sure would be nice to have our family member with a badge sign out a few of those high powered tactical type weapons so we could "use" them.